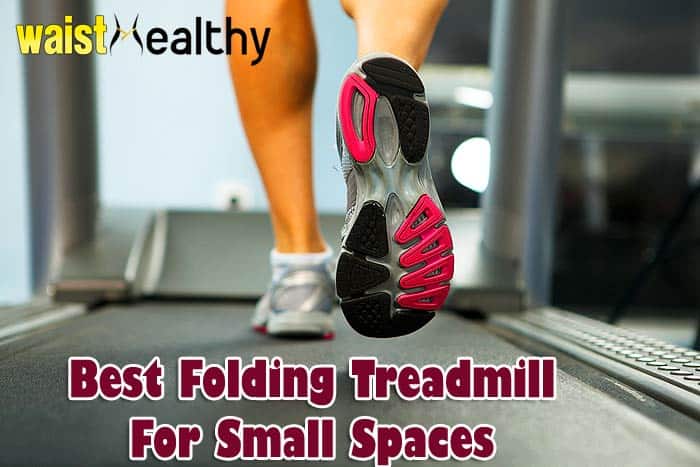 Treadmills come in many designs, some of which fit in the tightest of spaces. Whether you want to run, walk, or just take a few extra steps, a treadmill has every workout at the convenience of your home.
It's a great way to get your cardio up to get fit, good health, and an enviable figure, but traditional treadmills are quite bulky and can take up a lot of space in your home.
Sale
Best Folding Treadmill For Small Spaces
Our Pick
The Goplus 2-in-1 Folding Treadmill is our top pick for the best folding treadmill for small spaces. It is one of the most comfortable treadmills to move, fold, and store, so it is the best option for those with small spaces.
We ♥ honesty! Waist Healthy earns a commission through the following hand-picked links at no extra cost to you.
When you don't have enough space to get a traditional treadmill or other home fitness equipment, you need to understand the benefits of the best folding treadmill for small spaces instead of standing ones.
This treadmill allows you to use your home gym to work out when you feel like it or when the weather is not in your favor. These treadmills are smaller than the ones in the gym; however, they provide an excellent opportunity to run or walk in the privacy of your home, even if space is limited.
Best Folding Treadmill For Small Spaces – Comparison Table

Where Should I Put my Treadmill in a Small Apartment?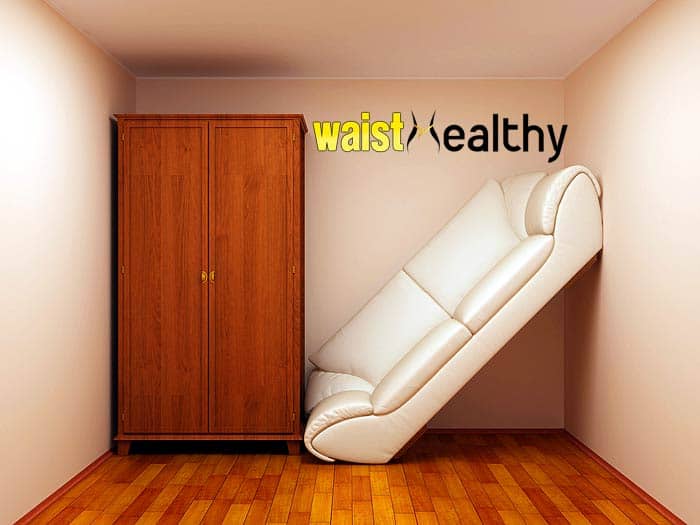 If you don't have an extra bedroom or office, put the treadmill in your living room. Folding treadmills do not take up much space when not in use. So you can hide it under a pretty fabric cover or behind a screen or plants.

What are the Benefits of a Compact Treadmill?
The biggest benefit of a compact treadmill doesn't require a lot of thought.
These treadmills are particularly suitable for small spaces, as you can reduce them considerably after training with a few steps, and they can therefore also be stowed away in a small space. In this way, such fitness equipment won't bother you when receiving guests, for instance.
Another benefit of the compact treadmill is that folding it is much easier to carry than if it were its actual size. This advantage is noticeable in all cases when moving.
Even when buying a used treadmill, it can be advantageous to be able to fold it up. In most cases, the buyer has to pick up the used device and transport it in their car.

Is it Easy to Move a Folding Treadmill?
Some folding treadmill models have transport wheels, which makes them easy to move. So if portability is your thing, you need to go for a model with wheels.

What to Look for?
A) Size
Among many reasons to purchase a compact treadmill, one would be to conserve the required space.
Before choosing a model with an ideal fit, you need to make sure that there is enough storage space for the folded treadmill.
Some folding treadmills are so compact that you can store them under a bed.
Make sure you have the space you need before making a purchase.

B) Portability
A common feature of folding treadmills is wheels.
Most people want to move their folding treadmill out of storage to a place they like to exercise.
However, some folding treadmills are simply more portable than other models because of their weight.
Many high-end treadmills can weigh more than 200 lbs. Therefore, they aren't portable.

C) Noise
You may need a quiet treadmill if you want to exercise at home or in a small apartment. Generally, the noise decreases as the price increases. Some qualities that affect the noise level include:
The bridge crane absorbs both shock and noise.
The bigger the rollers, the quieter the belt will be.
Thinner strip, for example, a single layer thickness tends to be louder.

D) Belt Material
If you want your folding treadmill to last a long time, the belt material is vital.
Foldable or not, treadmill belts are the first thing that wears out on virtually any treadmill.
Generally, it is the surface of the belt that wears out. All compact treadmill belts have a PVC top coating, and some employ a monofilament coating.
In contrast, others use a polyethylene blend material. Polyethylene-blends make the machine quieter because the friction is lower than monofilaments. However, monofilament belts generally last longer.
Premium belts use a stronger and more durable lining or a hybrid urethane belt. The smooth surface of the deck and the contact with the belt reduce the noise level.
However, more contact surfaces require more energy, which places tension on the machine.
Thinner belts actually last longer than thicker ones because they trap the heat that a treadmill uses.

E) Security Locks
Most folding treadmills are equipped with safety locks to make sure they remain locked when folded.
It's essential to purchase a model with a perfect quality security lock.
A broken lock can cause injury during storage if the treadmill unfolds quickly.

Best Folding Treadmill for Small Spaces Reviews
Here are the top 6 best folding compact treadmills for small spaces on the market today:
1. Dynamax RunningPad Compact Treadmill Reviews
The Dynamax RunningPad Compact Treadmill is engineered with a unique foldable deck that packs into less than 0.5m², making it ideal for small spaces.
This small treadmill for apartment has an efficient 1.0 horsepower motor that can take users from a gentle run to a challenging run.
This foldable treadmill is designed to produce minimum training noise. The Mirage LED console offers you live training feedback as it delivers distance, time, and speed data, all in real-time.
For a better home experience, just download the workout companion app and sync the unit to your device through Bluetooth. The app allows you to track and adjust every workout to meet your fitness goals.
This folding treadmill features a low-impact fiberboard deck lined with a unique soft gel coating that delivers strength and cushioning with each training session.
Fitted with 2 transportation wheels, the Dynamax RunningPad Compact Treadmill can be moved around and stored anywhere easily.
Pros
Space-saving design
Folds up and down quickly and easily.
Aluminum alloy construction
Low noise
Integrated transport wheels
Cons
Max speed of 5.6 might be too slow for some people.
Check Price at Amazon

2. Sunny Health & Fitness SF-T7718 Electric Folding Treadmill Reviews
This Sunny Health & Fitness SF-T7718 Folding Treadmill can definitely be the best fitness machine for the number of features it offers.
From an efficient motor to a smart space-saving design, this foldable treadmill has it all.
The 2.5 horsepower electric motor ensures trouble-free operation over long periods. The 47 "x 20" wide treadmill belt offers a comfortable space for comfortable running/walking.
This durable treadmill can easily carry around 220 pounds, which shows its strength and endurance.
If you are scared of using an exercise machine for the first time, this treadmill offers several options to improve handling.
You can set the speed between 0.6 and 9 MPH with it and 3 incline options (0%, 2%, and 4.37%) that you can change manually.
This folding treadmill includes 9 built-in training plans that allow you to experience an even more intense and professional practice.
This small-space treadmill consists of a Hi-Fi LCD on which you can track your training data such as time or distance, and many more. It not only takes up little space but is also very easy-to-use, thanks to its flexible drop mechanism.
The developers are also concerned about your safety as the treadmill is made up of strong handrails and flexible padding to offer support and reduce harmful effects on the joints.
This smart foldable treadmill also includes a smartphone/tablet holder so you can have a good time running on it.
Pros
Flat folding design
Wide running surface
Convenient tablet holder
2.5 hp powerful motor with a 0.6 to 9 MPH speed range.
Check Price at Amazon

3. ZANFUN 4-in-1 Foldable Treadmill Reviews
The ZANFUN 4-in-1 Foldable Treadmill is another compact option that can serve the needs of those with small spaces.
You can easily store this treadmill under your table or bed without occupying a large area. It is designed seamlessly with a sturdy structure, so it remains undamaged and intact for a very long time.
Although compact and light, this folding treadmill is still powerful enough to withstand up to 330 lbs of user weight.
Also, it offers three levels of incline that you can modify for a more advanced workout session.
This compact treadmill under bed also comprises holders for smartphones/tablets and other accessories that allow you to engage in multiple tasks while working out.
The ZANFUN 4-in-1 Foldable Treadmill consists of a cushioning technology that effectively reduces the stressful effects on your muscles and joints while jogging/running.
Pros
Easy to install
5-inch backlit display
High precision running belt.
Folds instantly and saves space.
Check Price at Amazon

4. Goplus 2-in-1 Folding Treadmill Reviews
The Goplus 2-in-1 Folding Treadmill compact, foldable design, and integrated transport wheels make this unit perfect for small spaces.
With the powerful and extremely quiet 2.25 HP motor, you can run or walk without disturbing others.
The treadmill belt has 7 layers of non-slip shock absorption and a spacious running surface, offering a highly safe and effective cushion for the muscles, joints, knees, and back.
The LED display clearly shows speed, time, distance, and calorie consumption. These metrics allow you to monitor your progress in real-time while also recording your workout statistics.
It comes with a convenient remote control that allows you to adjust the speed. The adjustable tilt and folding design offer adequate security and solve the storage problem for small spaces.
The tablet holder offers space for your mobile phones. While exercising, you can watch videos, talk, and listen to whatever music you want.
The emergency stop switch offers excellent safety. Not only does the cushion help to protect the joints and knees and joints, but it also helps to neutralize the vibrations of the ground.
The 3-levels of incline will help you lose more calories and build strong muscles. It has a maximum speed of 12 km/h to choose a specific program from the available programs.
Pros
Saves space
Easy to store
Equipped with a cell phone holder.
Cushioning system for safety.
Easy to assemble
Check Price at Amazon

5. LAKAGO Electric Under Desk Treadmill Reviews
The LAKAGO Electric Under Desk Treadmill is a piece of space-saving fitness equipment that is easy to move thanks to its two quiet wheels.
It offers you a low noise experience while jogging or walking, thanks to its shock absorption design.
You can easily place this treadmill under your desk, bed, sofa, or in any corner, making it perfect for small spaces.
With multiple soft layers, footpads, and rubber columns, this unit offers users a comfortable jogging and walking experience.
The brushless 350 watts motor makes it quiet enough when exercising, so you won't disturb your neighbor or other family members. It features a wide track that ensures you have a large walking area.
The LAKAGO Electric Under Desk Treadmill can withstand up to 220 lbs of user weight, thanks to its durable and reliable material.
Pros
Shock absorption design
Large walking area
Easy to move and carry.
Quiet operation
Cons
The monitor is quite basic.
Check Price at Amazon

6. Mauccau Folding Treadmill Reviews
The Mauccau Folding Treadmill includes everything a compact treadmill should have, including a comfortable tread belt, an integrated tablet, and a space-saving design.
This space saving treadmill features a spacious running surface that makes it comfortable and space for running or walking.
Its durable and robust structure allows it to endure up to 220 lbs of user weight.
This treadmill also has a digital LCD screen that allows you to track your workout statistics.
With a wide range of integrated workout modes, you can create a personalized workout easily.
The removable smartphone/tablet holder increases the entertainment options for users.
It has a multi-layer composite belt that offers helpful cushioning for your back, ankle, and knee joints.
Pros
Folding storage design saves space.
Multiple workout modes
Comfort cushioning
Low noise operation
Cons
Can only accommodate users weighing less than 220 pounds.
Check Price at Amazon

Sale
Top-Rated Folding Treadmill For Small Spaces
Our Pick
Our top pick for the best folding treadmill for small spaces is the Goplus 2-in-1 Folding Treadmill. Its compact design has a powerful 2.25 HP motor, so it won't disturb those around. Regardless of where you live, this unit will easily fit in.
No longer are treadmills those giant cardio machines that take up a lot of space. The technology has considerably improved, that it has now gotten smaller.
However, it still offers the support you need for a great walk/run. Now, with the best folding treadmill for small spaces, you can bring the gym into your home. Not only are they great for giving you a great cardio workout, but they're also easy to move and store.

Key References
"How much noise does a treadmill desk make?". Accessed December 28, 2020. Link.
"What are the Differences in Walking Belts?". Accessed December 28, 2020. Link.