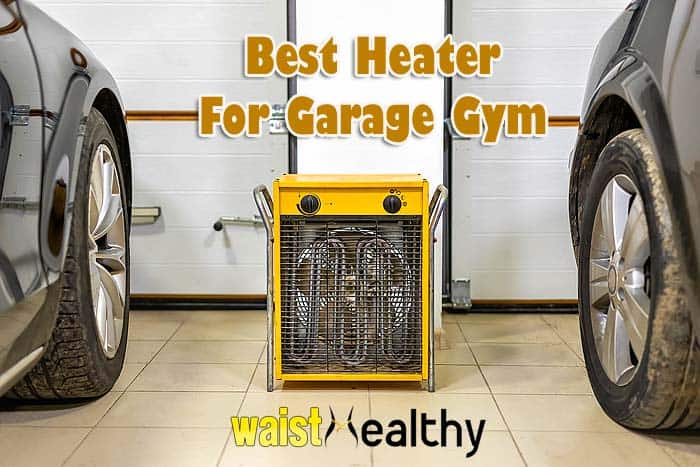 Best Heaters For Garage Gym Reviews: If you had the inspiration to create your own gym at home, you would definitely need ways to maintain an optimum temperature in the comfort of your garage. Working out in a cold garage can destroy motivation and be highly uncomfortable.
Best Heater For Garage Gym
Our Pick
If we would choose one heater from the list below, we would definitely go for the Atomi Smart heater. This heater comes with unique features that others don't have, and it is both efficient and modern!
We ♥ honesty! Waist Healthy earns a commission through the following hand-picked links at no extra cost to you.
Luckily, you can fix this problem by investing in a heater that will turn out to be very useful during those cold days of winter!
We put together a complete guide with everything you need to know about the best heaters for your garage gym. So, keep reading to find out everything you need to know about such a heater as well as other aspects regarding the heating system you use in your garage!
Best Heater For Garage Gym – Comparison Table
Remote control
Voice commands, Alexa, Smartphone app

Why do you need a heater for the garage gym?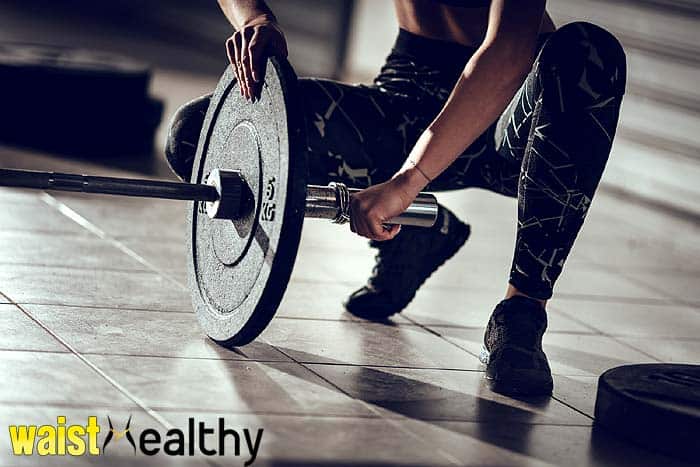 If you are planning to use your garage for other activities than just storing your car and other tools, chances are you also need to maintain an optimum temperature inside this space.
For those planning to use your garage as a home gym, the temperature is even more critical. Working out means that you will sweat, and if the temperature is too cold, you might end up with all kinds of body aches. At the same time, working out at a cold temperature could also lead to viral infections.
To avoid such risks and enjoy your working-out time in your garage, you will have to invest in a heater.

Is it safe to use a propane heater in a garage?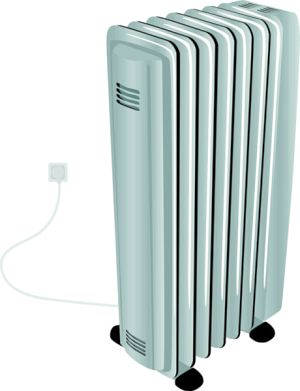 Propane heaters are very popular but are they a good idea for your garage? The answer is not black or white. There are ways to use a propane heater safely in your garage as long as you follow specific tips.
Safety starts with the type of propane heater that you invest in. There are propane heaters with a safety feature that come with a sensor for low oxygen. These heaters also come with overheat protection as well as an automatic shut-off function.
It is essential to place your propane heater away from other combustible substances such as gas, paints, or paint thinners. Also, don't place anything on top of the heater, and don't leave the heater on when you are not present.
You can also install detectors for carbon monoxide and if you notice that the flame turns yellow instead of blue, turn the heater off immediately.

What is the best way to heat a detached garage?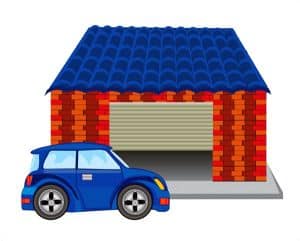 Detached garages are those garages that are not connected to the building of your home. They could be ten feet away or even ten yards away.
If you have a detached garage, you will need to use an independent heater as well. Details such as the overall construction of your garage will matter a lot in this decision.
You can invest in a heater that you will only plugin when you occupy the garage, as it would be a waste to have it heated all the time.
Investing in a split heat pump can be a great idea if you have the means to do that, and there are several products on the market that you can choose from.
If the garage is insulated, you might have to insulate it, increasing the average temperature. To heat your garage permanently, you can invest in a gas furnace as well.
And of course, if you can use an electric heater, this might be the best and most efficient option.

How much does it cost to run an electric garage heater?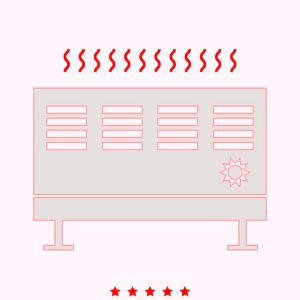 Electric garage heaters are cheaper than gas heaters, but the price will vary according to the size of your garage and how long you need to heat it up.
You might want to heat up your garage only when you work out in it, or you might prefer to have a constant temperature that offers you ongoing comfort.
The unit of an electric heater will generally come at a better price. However, if you run it constantly, you can expect it to load your electric bill more than a gas heater. The unit price can vary from $400 to $1500.
You will have to expect that monthly electricity bill to vary according to how often you run your heater.

What type of heater is best for a garage gym?
As soon as you decide to heat your garage, you will decide what type of heater to invest in. While the opinions are split on this matter, certain aspects will still help you decide which heater is best for you. There are three main heater types that you will find on the market, and we will discuss each one individually.
Suggested Reading:

A) Forced air heaters
Forced air heaters will blow hot air into the space of your garage by using different types of fuel. You can find these heaters in different sizes and with various features.
Still, the operating system is the same for all of them. From these heaters, the best ones are those that work on gas.
You can connect these heaters to your home's gas line, and therefore the cost is significantly reduced.
If you invest in one of these heaters, however, you should be prepared to pay more for the unit and the installation upfront, which should be done by a professional.

B) Convection heaters
Convection heaters are also very popular. These heaters have radiators that use water and oil and work on an enclosed flame that warms the air in the device.
The air then rises by using a fan and heats up your space. These heaters can be the cheapest on the market, but their efficiency is highly debatable.
A significant advantage of these devices is that they come in portable sizes. On the other hand, they take longer to heat up your garage than other heaters.
You can also find them in mounting versions if you would rather have them in place.

C) Radiant heaters
Radiant heaters use infrared heat to give you the temperature you want in your garage.
These heaters will offer you a uniform temperature, and you can find them in electric versions or gas versions.
You can also find them portable or mountable according to your needs. They are one of the best choices to consider if you also use your garage for DIY projects, as they will not stir up the dust in the air.

Where should I place my garage heater?
The spot where you choose to install your garage heater will depend on different factors. The type of heater you choose to invest in is also a crucial aspect.
If your heater is a mounted one, you want to place it on the wall that is closer to your working-out spot.
If you choose a ceiling heater, you can place it in the middle of the ceiling to make sure the heat gets distributed evenly.
Consequentially, if you choose to purchase a portable heater, the advantage is that you will be able to quickly move it as you please according to where you decide to work out.

How Many Watts Do I Need To Heat My Garage?
One of the most important decisions you will make is how many watts should your heater have? While this is not a general selection criterion for a good heater, the number of watts should be appropriate to the size of your garage.
The general rule you need to follow says that your heater should use ten watts for each square foot of your garage. For instance, if you choose a heater of 5000 watts, you can count on it for a garage of 500 square feet.
Suggested Reading:

What is the most efficient way to heat a garage?
Heating a garage permanently is different from heating it temporarily when you use it for other activities.
If you want to heat up your garage permanently, the first thing you need to consider is insulation. If your garage is not insulated, you will spend more on a heater as you need to invest in a stronger one.
Also, for a permanent heating option, you can consider a gas heater that you connect to your home's gas line.
Things become more straightforward if you only want to heat your garage for limited amounts of time when you work out.
In this case, you can invest in a portable heater or a ceiling fan, and you can turn it on as you need. Insulation becomes less critical in such a situation because you will not need to maintain a constant temperature.
Suggested Reading:

Are infrared heaters suitable for a garage?
Infrared heaters come in all types of models, and if you choose the right one for your garage, you might enjoy it more than you expect.
These heaters benefit from offering you uniform temperature in your garage and are safe to use as well. You can use them in garages that are not insulated adequately because they don't waste energy at all.
However, if you invest in an infrared heater, check the features it comes with, including the temperature range. You want a heater that offers you enough options to accommodate your time in the garage.
You can choose infrared heaters on propane, gas, or electricity, and in terms of costs, the gas ones tend to be the most efficient. However, when it comes to quality and safety, electric infrared heaters remain the best option.
Suggested Reading:

How many BTU does it take to heat a 2 car garage?
If you choose to invest in a forced-air heater, you need to choose one strong enough to heat up your garage.
Taking a most common garage size, which accommodates two regular cars, you will need a heater of 45.000 BTU to get the temperature you want evenly.
If your garage is big enough to host three cars, you will need 60.000 BTU. You can find the BTU level stated in the description of the product you want to purchase.

Can I leave the garage heater on all the time?
Depending on the type of activities or the goods you store in your garage, you can decide to heat it up for short periods or permanently.
If you want to keep your garage heated up constantly, you will need a heater that is intended for permanent use.
Leaving your garage heater on all the time implies higher costs and higher safety concerns. You will have to be prepared to pay more for your electricity bill, so if you want to leave the heater on all the time, choose one that saves energy.
As for safety concerns, a heater that will run non-stop should come with a safety sensor as well as safety protection since you will most likely leave it unsupervised.
Safety sensors either shut off the device in case of overheating or create an alert that notifies you when a problem occurs.
Suggested Reading:

What type of natural gas heater for the garage would I need?
Gas heaters are very popular as they come at affordable costs in the long run. You might pay more for the unit and its installation, but you will save money on the electricity bill.
If your home already has a natural gas system, you can connect your gas heater to it and not worry about the fuel type as it will be the same gas. This option will also reduce your costs significantly in the long run, and it is an excellent option if you want to heat up your garage all the time.
An alternative to natural gas is propane. But keep in mind that heaters that work on propane are different than those that work on natural gas, so you should check this aspect before purchasing your device.
In terms of the heating type, choosing a heater that works on a radiant system is most likely the best because it will heat your space evenly. Besides radiant heaters, there are forced-air ones and convection heaters as well.
Suggested Reading:

What to look for?
For those who never invested in a garage heater, the options available on the market could be overwhelming. This is why it is essential to be aware of the main aspects you are looking for in such a product before pulling your credit card out.
A) Type of heater
The heater's type is one of the main aspects to consider. You can choose a radiant heater that uses infrared heat, a forced-air heater, or a convection one. The decision you make should be based on your preferences and the way you intend to use your heater. Radiant heaters tend to come at the best quality as they heat the room evenly, but if you don't need that, choosing a forced-air heater might be as good as a convection one too.

B) Electric or gas
Another significant aspect to consider is choosing between an electric heater or a heater that works on gas. Electric heaters are cheaper in terms of unit cost, but they will load your electricity bill more. On the other hand, gas heaters are more expensive to purchase, but you will save money on monthly expenses. When it comes to gas heaters, you can choose between heaters that work on natural gas or those that work on propane.

C) Portable or mountable
Choosing between a portable and mountable heater is a personal choice. It depends significantly on how you plan to use your heater. If you want to run it all the time, a mounted heater might be a better choice. Also, if you intend to move it from one room to another, you might want to invest in a portable heater. You will find both types on the market, with different features.

D) Remote-controlled heaters
Chosing a heater that comes with a remote controller can significantly increase your comfort. You want to control the heater from a distance and change the temperature as you need when you are working out. Some heaters might not come with a remote, but they have a voice command feature or work on an app you can download on your smartphone.

E) Color and design
The color and overall design of the heater shouldn't be overseen. You most likely want your heater to blend in with the rest of the background. Unfortunately, most heaters come in classic shades of white, gray, or black. So if you want something more original, it will be difficult to find. But these colors should match any garage in a discreet yet elegant manner.

Best Heater For Garage Gym
Here are the top 5 best heaters for garage gym on the market today:
1. Dr. Infrared Heater DR-975 7500-Watt 240-Volt
One of the best heaters to use in your garage comes from Dr.Infrared Heater and has plenty of features that you will find helpful.
This is an electric heater, so you will not have to worry about safety aspects as electric heaters tend to be considered safer than gas heaters. The heating method is a radiant one which is perfect for obtaining a uniform temperature with no hassle.
This heater is working from 4700 W to 7500 W, and it's a 240 V single-phase device, so it can be used in most spaces easily without modifying your garage.
This heater comes with a thermostat that can be controlled through a remote will increase your comfort as you can change the temperature as you are working out without taking a break.
The temperature can go from 50 degrees F to 90 degrees F, which is wide and enough to offer you the atmosphere you want when working out.
The airflow is easy to direct as this heater comes with five louvers that can be adjusted as you need to make the most out of this product.
The design of this heater is a mounted design, so you can attach it to the wall or the ceiling and not worry about it as you can turn it on and off by using the remote.
Pros
A radiant electric heater which will accommodate most expectations you have for an optimum temperature in your garage.
Since it is an electric device, it is easier to install than a gas heater, so you can do that by yourself.
Inside the package, you will find all the instructions needed to set this heater up as soon as you want.
You can adjust the temperature and airflow, giving you the freedom to set the perfect conditions.
Coming with remote control, this heater is very easy to manage and highly functional.
Cons
It might create a noise when it is on that some users could find disturbing.
It is not strong enough to heat up garages that are not insulated.
Check Price at Amazon

2. Envi High-Efficiency Whole Room heater
This Envi heater might also be just what you need to set the temperature you want to have in your garage as you are enjoying your exercise sessions.
If you want a heater that looks great in any space, this one comes with a simplistic yet modern design that will compliment your garage nicely.
It is an electric heater that you can mount on the wall as you please, and it will heat your entire garage in a matter of minutes.
This heater will not overload your energy bill either. As a matter of fact, it is one of the heaters that can heat your garage with only four cents per hour which is an impressive performance for such a device. So, if you are on a budget, this device can be a perfect choice.
Unlike the previous model, this Envi heater is silent, so you will not have to worry about being bothered by it at all.
You will not have to be concerned about safety aspects either, as this device comes with a safety sensor. You can let it run non-stop if you want to and still not worry about any overheating aspects.
Unlike other heaters, this one will not spread allergens or dust in your space, so you can enjoy the temperature you want without compromising the quality of your air.
Installation is very smooth, so even if you are not a professional, installing this heater will not be a problem as long as you follow the instructions.
Pros
The design of this heater will blend in with your garage, so you enjoy both an optimum temperature and great aesthetics.
You will not need extra tools to install it as it comes with everything you need inside the package.
Saves electricity money since it consumes less than other similar heaters.
Noise will not be a problem with this heater, and in case you want to install it in different rooms, it is as discreet as it gets.
Thanks to the safety sensor, no one in your family will be at risk when this heater is on.
Cons
It doesn't come with a remote control which can be a disadvantage for some users.
You can't choose this product in different colors.
Check Price at Amazon

3. Comfort Zone CZ230ER Digital Fan-Forced Ceiling Mount Heater
If you are looking for a ceiling heater, this one from Comfort Zone can be an excellent choice for your garage.
This ceiling fan is ideal for improving the temperature while working out sessions for those with a small garage space. It will not take space on your walls or on the floor, and it will be stable on the ceiling.
You will most likely have this ceiling fan for a long time as it is made of resistant stainless steel material.
This ceiling fan offers you the option to direct the airflow just how you need it, so the heat will be exactly in your area.
You can control it through the remote control easily as you want to adjust the temperature or turn the device on and off.
In terms of safety, this device will not be a concern either. It comes with a safety sensor that turns off the fan if it overheats.
It might be a bit more challenging to install, considering that you have to mount it on the ceiling. But if you follow the instructions, you can still get it set up by yourself.
Pros
Saving space can be a great benefit of this product, especially if your garage is small.
For a ceiling fan, having a remote control is essential for your comfort, and you can change the settings as you need.
Adjusting the airflow will allow you to enjoy the temperature you want exactly where you want it.
Stainless steel material is resistant to rust and durable in various conditions, so you will not have to replace this fan too often or invest in its maintenance.
The product comes with clear instructions, which facilitates the installation process.
Cons
Might cost more to operate it compared to other heaters.
It doesn't heat up the room in a uniform manner.
Check Price at Amazon

4. Atomi Smart WiFi Portable Tower Space Heater
Atomi Smart WiFi heater is a modern and functional device that you will love to have in your garage.
This heater has a modern look that goes great in any background. It is effortless to use to have the temperature you want and the aesthetic aspect you prefer.
It is entirely silent, an improvement from previous models made by the same company. So, you can use it in any room of your house, not only your garage, with no concerns of disturbing anyone.
You can use this heater through WiFi and voice commands and adjust the settings as you need according to your personal comfort.
If you want to use your smartphone to control this heater, you have to download the Atomi Smart app from the manufacturer's website. Via this app, you can schedule the device, change the temperature or turn it on and off.
This heater is both safe and stable. It has a safety sensor that alerts you if the device gets overheated. The handle and base are cool-touch material, so you can manage the device safely.
The panel of this smart heater is large enough to show you the temperature quickly and give you the option to change the settings manually. You can choose from three modes: low, high, and eco, according to what is most comfortable for you.
Pros
Thanks to the design of this heater, you will not have to go through an installation process.
You can control it through your phone or voice as well as manually, giving you all the options you need to make the most out of this device.
This heater looks very modern, and it will improve the entire aspect of your garage or any other space you place it on.
It is silent and will not disturb anyone in the room you run it.
The fact that it comes with a safety sensor makes it risk-free in all circumstances.
Cons
The settings you establish initially might not stick every time you use them, so you might have to adjust them regularly.
There is only one design available for this device.
Check Price at Amazon

5. Briza Infrared Patio Heater
The last but definitely not the least heater in our selection comes from Briza, and it is one of the most efficient heaters you can purchase.
You can use this heater both indoors and outdoors, and even if it is advertised as a patio heater, it is a perfect choice for your garage as well.
Also, you will be pleased to discover that this heater can be used on a stand, but you can mount it on the wall or even on the ceiling as well. The stand can easily be adjusted to get the heat at the level you want it as well.
The infrared technology of this heater is similar to the heat that comes from the sun, which means the environment fast absorbs it. As a result, you will notice that your space reaches the desired temperature faster than with other heaters.
The heating elements are protected by a metal layer so no one can get hurt by touching them.
Another great feature of this heater is the timer. You can set it up to turn off when you want on a schedule between one hour and nine hours.
Pros
Portable and mountable heaters to use according to your preferences and conditions.
Both indoors and outdoors heater which makes this product that much more functional.
Resistant material so you can use this heater in all weather conditions.
Infrared technology for better heat absorption in the space you use this heater.
Safety protection so your children and pets are safe while this heater is on.
Cons
Not as strong as other heaters.
The range of heat is smaller compared to other similar products.
Check Price at Amazon

FAQs
Q: Can I leave my heater on when I am not home?
A: If your heater, a gas or electric heater, comes with a safety sensor, you should be safe to leave it on even when you are not home. The safety sensor will turn off the heater automatically when it overheats. However, if your heater has no automatic shut-off function, you don't want to risk leaving it on when you are not present.

Q: Should I insulate my garage before investing in a heater?
A: If your garage is not insulated, you will need a more robust and more powerful heater to maintain a constant and even temperature in your garage. For such a situation, your best choice would be a radiant heater with infrared. But if you don't want to use a professional heater and spend too much on the monthly electricity bill, insulating your garage will definitely help. You can use almost any heater on insulated garages, and you will not regret it because no heat will be wasted.

Q: What type of heater is the most silent?
A: When you run your heater, you want to enjoy the optimum temperature but not disturbing background noise. Electric heaters tend to be the most silent than gas ones, but you will have to check the description of each product to be aware of the potential noise issues. Heaters that work on infrared heat will also offer you a reduced noise level, if any at all, compared to forced-air heaters that tend to be the loudest.

Top-Rated Heater For Garage Gym
Our Pick
We chose the Atomi Smart heater as it is easier to use in all types of conditions.
The fact that you can connect it to Alexa and even control it from your phone increases the functionality of this device. You will be able to check on the settings of your heater even when you are not in the garage. These features are not commonly found in other similar devices.
The design of this heater is safe for children and pets as the heat elements are always protected, which is essential for such a product. The basis of the heater can be safely placed on the carpet without any overheating issues.
The entire device has a weight of 8.33 pounds, so it is easy to carry it from one room to another if needed. This is an excellent advantage if you want to use this heater in other areas of your home during winter days.
Using the information in this guide, you will definitely end up with the perfect heater for your garage. Keep in mind that ultimately, your needs and expectations are different than others, and what works for you might not work for everyone else.
Check the selection of garage gym heaters we gathered for you, and most likely, you will find some tempting options among those heaters! Choose the garage heater that suits your needs best and enjoy your personal home-based gym!