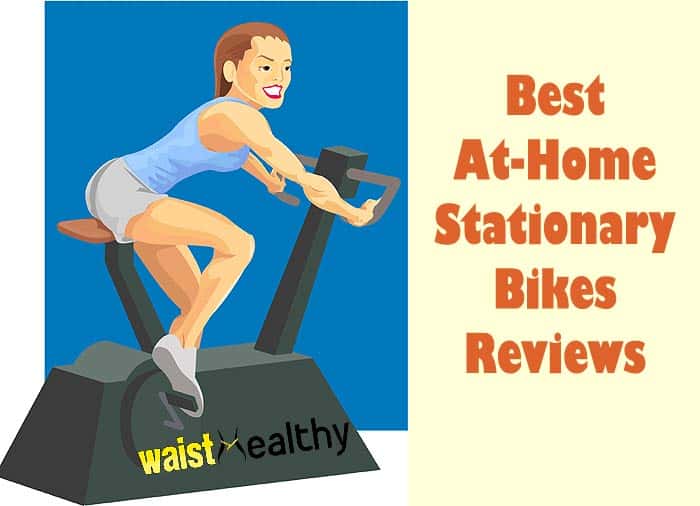 Riding the best at-home stationary bike is an effective and efficient way to burn body fat and calories while strengthening your muscles, lungs, and heart. When compared to other cardio equipment, a stationary bike puts less stress on the joints and also offers a superb aerobic workout.
The BEST At Home Stationary Bike
Our Pick
Our top pick for the best at-home stationary bike is the Schwinn 130 Upright Bike. Offering 20 resistance levels and loaded with 22 preset workouts, this unit is ready to support your customized fitness plans. It is affordable, yet it is reasonably durable.
We ♥ honesty! Waist Healthy earns a commission through the following hand-picked links at no extra cost to you.
Best At-Home Stationary Bikes – Comparison Table
What is a Stationary Bike?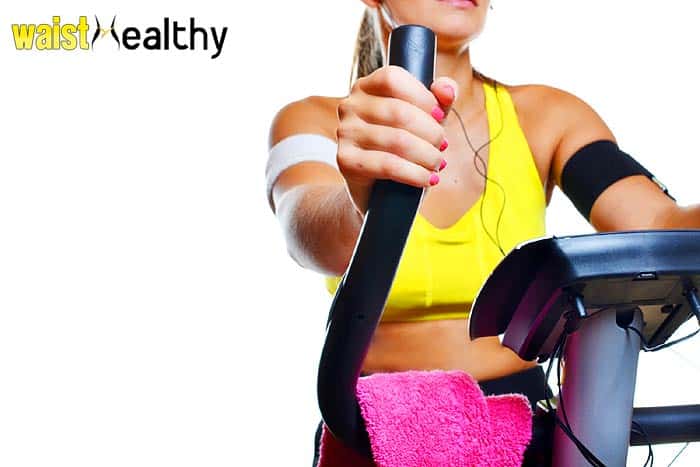 A stationary bike is exercise equipment that is ideal for those looking to get fit. It comes with pedals, saddle, and handlebars. Using an exercise bike is as effective as outdoor cycling. The only significant difference is that it doesn't involve going outdoors, and you might not get as much fresh air.

Benefits of Riding a Stationary Bike
A stationary bicycle workout is a low-impact workout that utilizes smooth movements to strengthen joints and bones without putting too much stress on them. This makes it a great workout option for those with joint injuries or issues. Your hips, knees, ankles, and other joints can be under a lot of pressure when jumping, jogging, running, or doing other high-intensity aerobic exercises.

Cycling is a great way to get the heart pumping. Aerobic or cardiovascular workouts, like cycling, strengthen your muscles, lungs, and heart. Also, they improve the flow of oxygen and blood throughout the body. Consequently, this can be beneficial to your health in several ways, including lower blood pressure, improved brain and memory functioning, improved sugar levels, better sleep, stronger immune system, lower stress levels, and better mood.

C) Strengthens Lower Body and Legs Muscles
Riding a stationary bicycle can help build strength in your lower body and legs, mainly if a higher resistance is used. The pedaling action can also help strengthen your quadriceps, hamstrings, and calves. Beyond that, it can work the muscles in the glutes, back, and core. If you purchase a stationary bike with handles, you can also work the upper body muscles, including the shoulders, triceps, and biceps.

Interval training lets you alternate long bursts of less intense exercise with shorter intervals of high-intensity exercise. This type of workout can help elevate your cardiovascular fitness and also help in burning more calories faster. Stationary bikes allow users to exercise using varied resistance levels, so you can work out at high, medium, or low intensities.

Outdoor cycling can be an excellent way to exercise, but it comes with some hazards, such as poor visibility, slick or uneven road surfaces, and inattentive drivers. Also, if it is humid and hot, or wet and cold, it can be quite hard to summon the courage to exercise outdoors. With stationary bikes, you need not worry about road conditions, traffic, or the elements. You can safely workout any time of the year at a comfortable temperature.

Is the Stationary Bike Good for Weight Loss?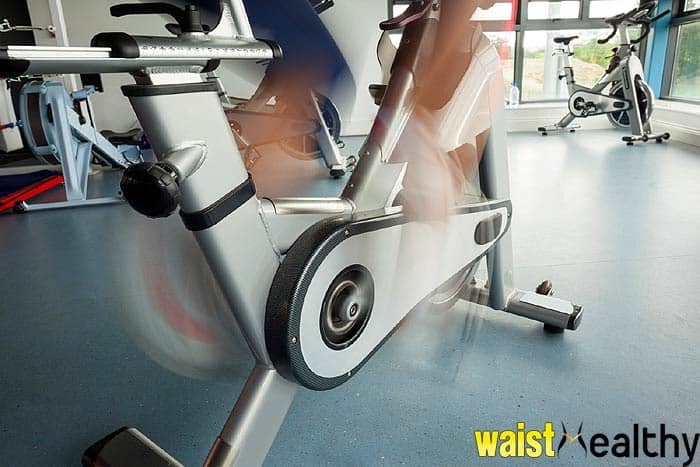 Working out at a very high intensity helps build strength and burn calories; this, in turn, can result in weight loss. A study found that a low-calorie diet, combined with indoor cycling, was very effective in reducing body fat and body weight in the participants. Also, it was effective in lowering triglyceride levels and cholesterol. The study's participants cycled for about 45 minutes 3 times a week, and they consumed up to 1,200 calories a day for 12 weeks.

How Many Calories do I Burn on a Stationary Bike?
Depending on your body weight and your workout intensity, you can quickly burn over 600 calories per hour with a workout on a stationary bike. This makes a stationary bike a viable option for quickly burning calories. The key to weight loss is burning more calories than you consume.

Top 6 Best at Home Stationary Bike
Here are are the top 6 best at home stationary bikes on the market today:
1. ANCHEER 3-in-1 Stationary Bike
The ANCHEER 3-in-1 Stationary Bike has 3 modes -recumbent, upright, and fully folded, it transforms easily from a recumbent bike to an upright bike with just a pull of a lever.
It has a 10-levels adjustable magnetic resistance system to suit the needs of different members of the family.
Specifically designed to be whisper quiet, allowing for smooth and quiet workouts.
This at-home stationary bike offers a comfortable and large backrest and seat.
By adjusting the height of your seat, you can choose the best one for you.
The large backrest is ready to withstand your workout, so you can enjoy your cycling fully.
It comes with training belts that offer a more effective and scientific workout for your total body workout.
The advanced LCD digital monitor shows speed, time, calories burned, and distance.
The pulley design lets you move it easily anywhere.
Additionally, it is easy to fold for storage when you are no longer using it.
Pros
Adjustable seat height
Comfortable and large backrest.
Quiet operation
Adjustable magnetic resistance
Check Price at Amazon

2. GoPlus Stationary Bicycle
Designed for stability and speed, the flywheel of this stationary bike creates more momentum for a more extended period, allowing you to work out more.
The adjustable resistance will enable you to choose the difficulty level that is right for you.
The pedals are non-slip for your comfort and safety, while the adjustable straps help to increase stability.
The adjustable seat can move in different directions to fit various arm lengths or height, offering users a customizable experience.
With the GoPlus Stationary Bicycle, tracking your progress is simple as it comes with a digital monitor.
The convenient scan mode shows your progress to help you in tracking all your fitness goals.
This unit comes with dual transportation wheels for easy moving or relocation.
An extra-wide base and a rock-solid construction ensure outstanding stability and protection for your carpet or floor.
Pros
Solid and durable construction.
Adjustable seat and handle.
Easy to move
Functional digital monitor
Non-slip pedal
Cons
The adjustable parts are not stable.
Check Price at Amazon

3. IDEER LIFE Indoor Cycling Bike
Built with a quiet flywheel and heavy-duty frame, the IDEER LIFE Indoor Cycling Bike allows you to create an intense workout.
Its large surface area can hold a cup, laptop, or pad, allowing you to exercise while working.
With 8 levels of magnetic tension, it is easier to customize your workout resistance levels.
The heavy-duty flywheel and ergonomic magnetic resistance ensure a quiet and smooth ride movement as well as maintenance-free operation.
This stationary bike comes with a digital LCD monitor that shows calorie, distance, speed, and time, so you can track your daily progress.
It comes with 4 removable transportation wheels that allow for easy moving and relocation from one room to another.
Additionally, the built-in ergonomic PU leather ensures more relaxation and comfort for you during exercise.
Pros
Super quiet flywheel
8 levels of magnetic resistance.
Portable and foldable design.
Ergonomic padded seat
Cons
The rectangular shape of this bike's seat is not well-suited for long-term use.
Check Price at Amazon

4. Schwinn 130 Upright Bike
The Schwinn 130 Upright Bike has high-inertia flywheel and a sturdy tubular frame that offers a sleek outdoor riding experience.
This bike has adjustable handlebars and a cushioned seat to ensure your comfort while working out.
It comes with 20 levels of brake resistance for a wide variety of workout intensity options.
The ergonomically placed heart rate sensors ensure a relaxed riding position while using a heart rate program.
Additionally, the adjustable 3-speed fan will keep riders cool while exercising.
The dual-track LCD monitor can display 13 different types of feedback, so you can track your workout progress.
The Schwinn 130 Upright Bike comes with 22 preset workout programs to suit different workout needs.
Additional features include 2 integrated levelers, a water bottle holder, a USB connecting port, transportation wheels, and speakers.
Pros
Quiet magnetic resistance
Compact frame
22 preset workouts
Easy to assemble
Cons
The pedals are not strong enough.
Check Price at Amazon

5. ONETWOFIT Indoor Exercise Bike
The 330 pounds maximum user weight, 26 pounds chromed flywheel, and sturdy steel frame gives the ONETWOFIT Indoor Exercise Bike a rock-solid build.
The adjustable handlebar allows riders to adjust it up or down to meet different people's workout demands.
Also, the seat cushion can be adjusted up/down and forward/backward to help users reach a comfortable position.
The resistance system of this unit allows the rider to adjust the workout intensity.
It comes with an LED display that tracks your odometer, calories burned, distance, speed, and time.
The phone bracket on this stationary bike allows riders to enjoy music and exercise simultaneously.
The ONETWOFIT Indoor Exercise Bike is designed with movable transportation wheels, making portability easier.
Pros
Sturdy steel frame
Adjustable seat and handlebar.
Adjustable resistance
Easy and safe to use.
Cons
The seat is a bit uncomfortable.
Check Price at Amazon

6. GoPlus Adjustable Exercise Bike
With a 22-pound flywheel, the GoPlus Adjustable Exercise Bike will offer you a smooth and reliable workout session.
The belt-driven mechanism of this unit ensures a quiet and smooth workout.
There is also an adjustable tension knob for different exercise intensity.
The height of the handle and seat is adjustable to fit different fitness demands.
It has a soft PU cushion seat that improves your comfort while driving.
This stationary bike comes with a conveniently located bottle holder that ensures you are hydrated throughout your workout sessions.
The digital LCD monitor displays your speed, time, calories burned, distance, and odometer, so you can track your progress.
Pros
Heavy-duty and durable steel frame.
Adjustable handlebar and seat.
Quiet flywheel
Easy to move
Cons
The digital monitor is not backlit.
Check Price at Amazon

Top-Rated At-Home Stationary Bike
Our Pick
Our top recommendation for the best at home stationary bike is the Schwinn 130 Upright Bike. It is loaded with 22 preset workouts and 20 different resistance levels to support your customized fitness plans.
Choose the option that best fits your needs, and always remember a stationary bike is only beneficial when you use it. Set realistic goals and create a circle of health for yourself now and the future.

Key References