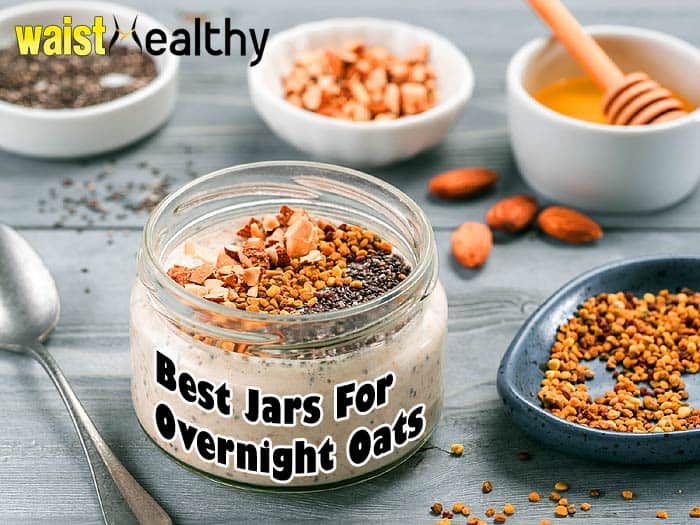 If you are looking for the best overnight oats jars, you came to the right place! Soaking oats overnight can be a great alternative if you want to eat them the next day and avoid cooking them.
Best Jars For Overnight Oats
Our Pick
If we had to choose one set of jars for overnight oats, we would definitely go for the Triumph products jars. This slick design thermal-resistant jar (microwaveable) can soak some oats for more people at once!
We ♥ honesty! Waist Healthy earns a commission through the following hand-picked links at no extra cost to you.
To soak oats overnight, you will need a proper container to avoid the hassle. By investing in a suitable jar for overnight oats, you can have a delicious breakfast each morning without cooking your oats at all.
Cooked oats lose some of their properties, which doesn't happen if you choose to soak them overnight. You might also want to eat your oats cold or at room temperature case in which you would have to wait for the cooked oats to cool down.
To enjoy a healthy oatmeal every time you want, we put together the best guide for purchasing an overnight oats jar. So, keep on reading and forget about cooking your oats!
Best Jars For Overnight Oats – Comparison Table

Do overnight oats have to be in a jar?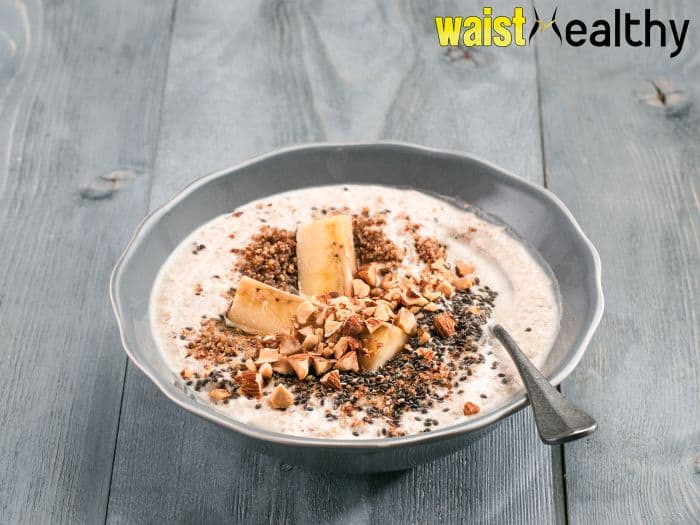 The best way to soak oats overnight is to put them in a jar, but this is not the only way. You can also use other types of containers as long as they have a sturdy and sealing lid.
People soak oats overnight in overnight oats plastic containers as well as bowls and Tupperware containers. But even if there are more options to soak oats overnight, that doesn't mean all of them are just as good.
You will notice that plastic containers can retain an odor that affects the quality of the oats. Plus, these containers will wear out faster than a glass jar, which will last you for a very long time.
Suggested Reading:

Can you put overnight oats in a plastic container?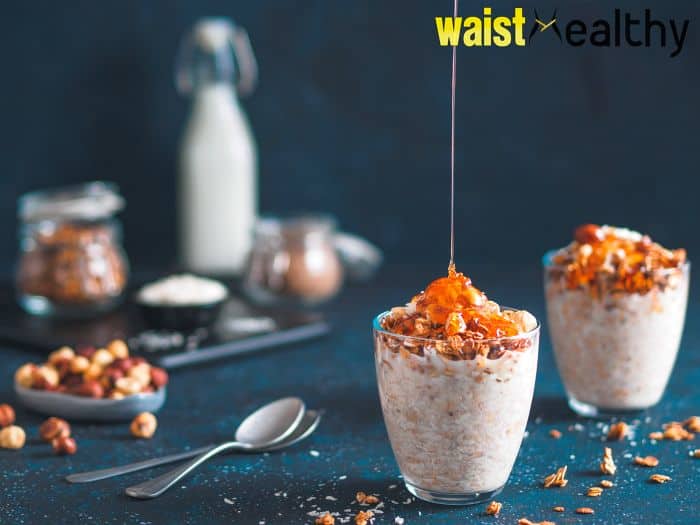 Yes, you can put overnight oats in a plastic container as long as it comes with a lid.
But you should choose a plastic container that is not toxic as this would affect the quality of your oats.
At the same time, consider that these containers achieve odors quickly. It is challenging to get rid of them even after you wash them.
The same issues stand for polypropylene containers, so it is best to choose a glass container over these options.
Suggested Reading:

Can I add protein powder to my overnight oats in a jar?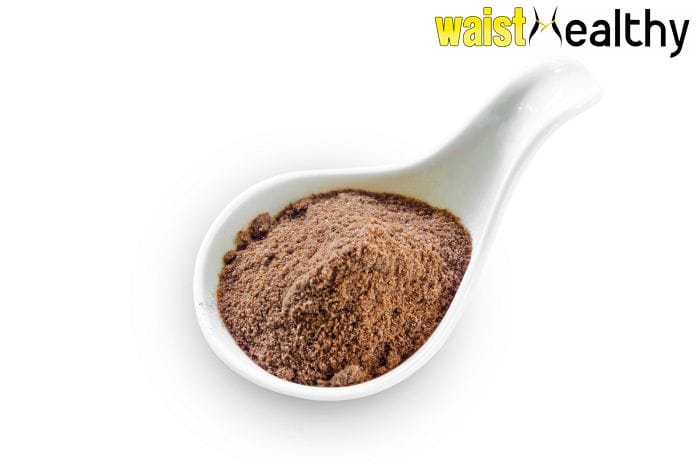 When it comes to overnight oats, you can add many ingredients to them to make your next day's breakfast taste even more delicious.
Protein powder is one of the most common ingredients to add to your oats as you let them soak overnight.
You can add 1 or 2 tablespoons of protein powder for each cup of oats you soak overnight.
By morning, the oats and protein powder will combine and create a nutritious breakfast for you!
As for the type of protein powder you use, this is of little importance. You can choose plain protein powder or a flavored one.
Go with what you like as your breakfast should be tasty as well.
Suggested Reading:

Do you eat overnight oats warm or cold?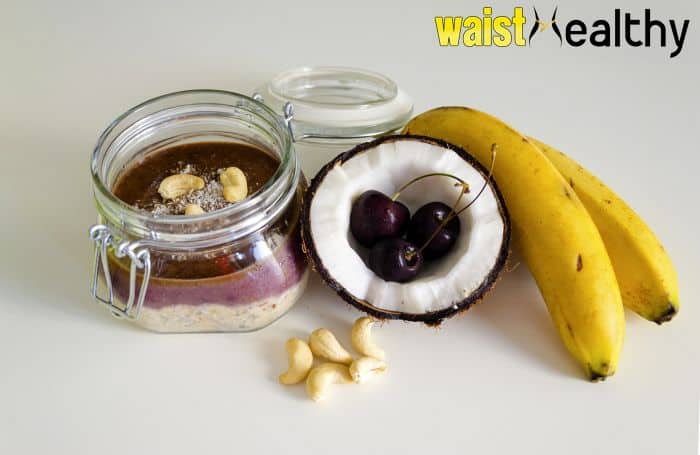 Overnight oats can be enjoyed both cold and warm. If you want to heat them along with other ingredients, you can do so.
Likewise, if you want to simply eat them at room temperature or cold, you will not fail either.
The best way to eat overnight oats is to not heat them because the entire idea of soaking them is to avoid the cooking process.
Your oatmeal will maintain all its properties, and your breakfast will be much healthier if you don't expose it to high temperatures.
Suggested Reading:

Do overnight oats help you lose weight?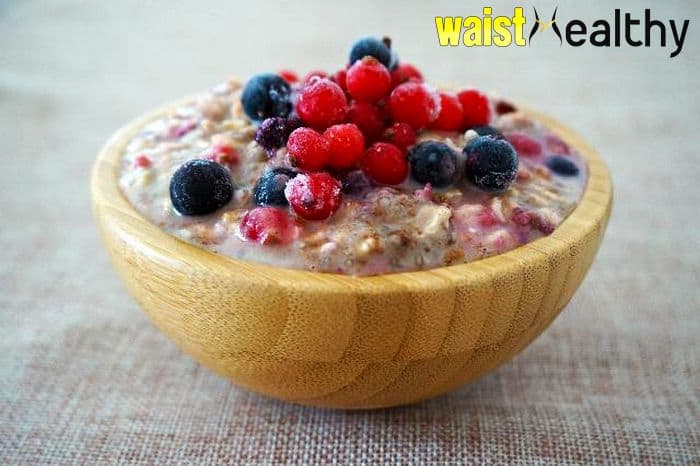 The benefits of eating oats in general and overnight oats, in particular, are many. Losing weight is one of these benefits as well. But why are oats recommended in many diets?
Overnight soaked oats are rich in fiber, and they keep hunger away for several hours after you eat them. Since they are so filling, you will not feel the need to eat as fast after an oatmeal breakfast.
Another benefit that helps you lose weight if you eat oats is that the fiber supports a healthy digestive system. They help you burn fat faster and speed up your natural metabolism.
Even an oats diet focuses on eating two main meals a day with oats and lean meat and veggies for the rest of the meals and snacks.
However, if you want to lose weight while eating overnight oats, you have to be careful at the other ingredients you add to this meal.
Stay away from sugar and carbs and combine your oats with fruits and nuts.
Suggested Reading:

Is it OK to eat overnight oats every day?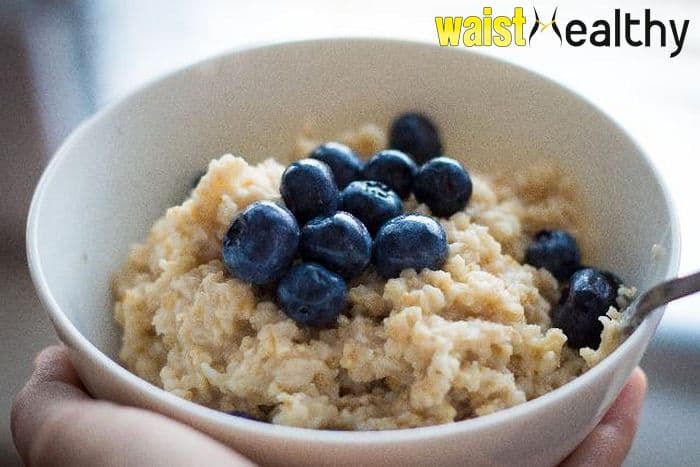 If you like oats, you are most likely wondering if you can enjoy oatmeal every day.
The good news is that not only can you eat oats every day, but it will boost your health on many levels.
If you keep oats as a breakfast meal, you will enjoy the benefits and not expose yourself to any side effects.
The type of fiber oats has called beta-glucan, reducing the bad cholesterol if you consume it each day. This fiber will also support good heart health and optimum blood pressure.
Eating oats at breakfast will help you prevent chronic conditions such as cancer, diabetes, and others.
Besides the fiber, oats also bring plenty of iron, potassium, magnesium, and protein to your meal. And if you soak them overnight, you enjoy these nutrients more as they will not be destroyed by the cooking process.
By eating oats daily, you will enjoy more energy and healthily lose weight. Plus, overnight oats are easy to prepare and make for a cheap and nutritious breakfast.
If you are concerned about getting bored of having oatmeal each day, you don't have to be because you can combine it with different fruits, seeds, and nuts to give it a different taste every time.
Suggested Reading:

What do you store overnight oats in?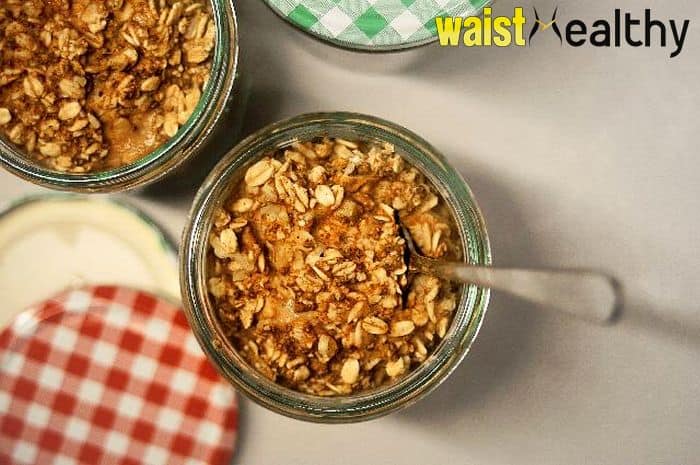 Storing overnight oats is not complicated at all. The best way to do that is to store them in a container in the fridge.
Using a glass container or jar is preferable to a plastic one.
If you use a plastic container to store overnight oats, you should make sure that it doesn't contain toxic chemicals.
Plastic containers might give your oats a distinct smell and even taste, and they will affect their quality.
You can use mason jars to store your overnight oats and soak them as well. By doing so, you avoid transferring the oats from one container to another.
A great tip is to store overnight oats in single portions. This will help you a lot as you are eating them, one portion at a time.
Suggested Reading:

Do overnight oats make you gain weight?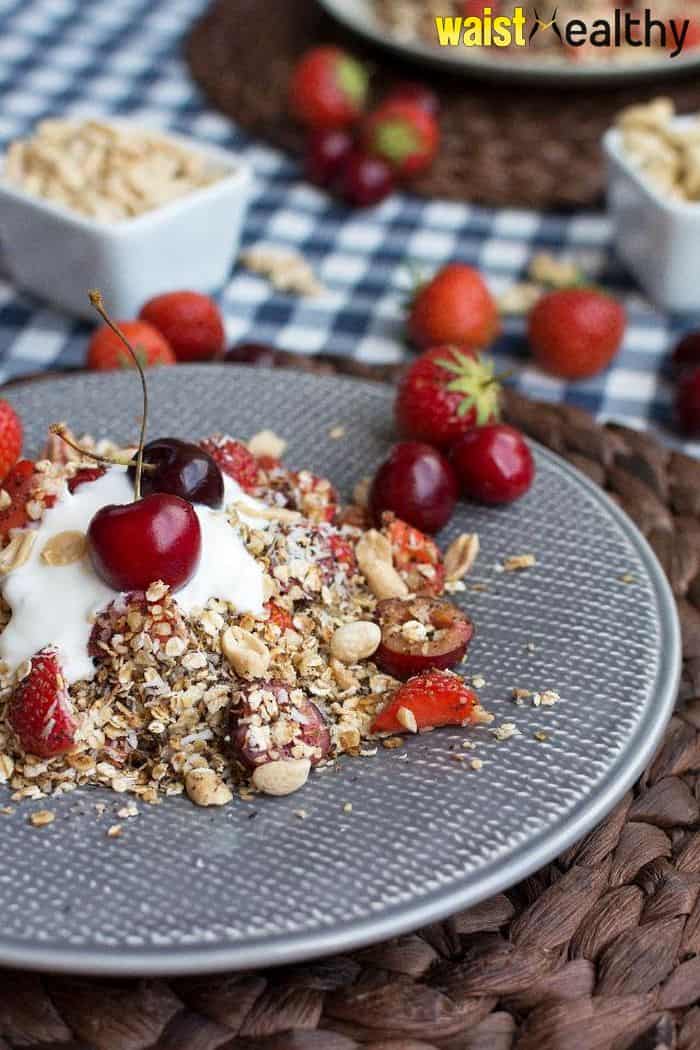 Even if overnight oats are a great food to eat, if you want to lose some weight healthily, that doesn't mean they can't make you gain weight too.
For instance, if you add too much sugar or even honey to your oatmeal, it will work against your weight loss plan.
If you feel the need for a sweeter taste, you can always add fruits and cinnamon to your oatmeal.
Using flavored oatmeal is also not the best choice. These products contain oats but also a lot of other flavorings that will alter your healthy diet.
Not only that these products contain sugar, but they also contain chemicals and dyes that you don't need to eat.
If you eat too many oats, being them overnight or cooked more traditionally, you can gain weight as well.
1 cup of overnight oats should be enough for a healthy breakfast each day to help you lose weight.
Stay away from adding too many toppings to your oats as well. Even if you choose healthy ones such as fruits or nuts and seeds, calories are still necessary, and you can't underestimate them.
The role of the toppings is to enrich the flavor of your oatmeal. A great choice is to keep your oatmeal under 200 calories.
Suggested Readings:

Top 5 Best Overnight oats Recipes
Here are some of the best overnight oats recipes that you can try at home with no hassle. They are easy to make and delicious! For all these recipes, mix the ingredients in a jar and allow them to sit overnight. They will be ready to give you a great breakfast in the morning.
1) Blueberry overnight oats
Blueberries and overnight oats are a very healthy and tasty combination.
For this recipe, you will need 1/2 a cup of oats, 1 tablespoon of chia seeds, 1/2 a cup of blueberries, 1/4 of a cup of Greek yogurt, 1 or 2 tablespoons of Maple syrup, 1/2 a cup of Almond milk, and a pinch of salt.
You can save some blueberries and almonds for the topping as well.

2) Apple pie overnight oats
Another great recipe for a tasty and easy to make breakfast is the apple pie overnight oats.
For this recipe, you will need 1/2 a cup of oats, 1 tablespoon of chia seeds, a pinch of salt, a 1/4 of a cup of yogurt (you can use any type you like), 1/2 a cup of almond milk, or another type of milk, 1/2 a grated apple, 1/2 a teaspoon of cinnamon, 1 or 2 teaspoons of maple syrup and a few walnuts.
If you want to make this recipe vegan, feel free to skip the yogurt or replace it with soy yogurt.

3) Chocolate and banana overnight oats (Vegan)
If you prefer a sweeter version of breakfast, combining chocolate, banana, and overnight oats is a great choice.
This is also a great vegan option if you are following such a lifestyle.
You will need 1/2 a cup of oats, 1 tablespoon of flax seeds or chia seeds, 1 tablespoon of cocoa powder, a pinch of salt, 1 or 2 teaspoons of maple syrup, a cup of almond milk or other vegetal milk you prefer, 1 medium-size banana.
You can always add some vegan chocolate flakes and slices of banana on top of it before serving.

4) Peanut butter and jelly overnight oats
Who doesn't like peanut butter and jelly? But what if you can combine it with your overnight oats?
You can create a great breakfast by combining peanut butter, jelly, and overnight oats.
For this recipe, you will need 1/2 a cup or one cup of oats, 1 tablespoon of hemp seeds or chia seeds, 1/2 a cup of milk of your choice, 2 tablespoons of peanut butter, 2 tablespoons of fruit, and a few peanuts for the topping.
It is straightforward and convenient to make this recipe vegan as well. Just use vegetal milk and choose unflavored peanut butter.

5) Pina colada overnight oats
A special type of breakfast would be the Pina colada overnight oats.
You need a bit more ingredients than on the previous recipes, but this is one of the most delicious breakfasts.
For this breakfast, use 1 cup of oats, 2 oz of pineapple, a pinch of salt, a 1/4 of a cup of yogurt of your choice, 1 tablespoon of honey or maple syrup, 1/2 a cup of coconut milk, 1 tablespoon of coconut in a desiccated form, 1/2 a teaspoon of vanilla extract.
Save come desiccated coconut for the final topping, and you have an easy to make Pina colada breakfast.

What to look for?
If you never invested in jars for overnight oats, you might wonder what features should such jars have.
A) The material of these jars
As we mentioned, the best overnight oats jars are those made of glass. You might want to look even further than that and choose a type of glass that is food grade and very resistant. You don't want your jars to shatter, scratch, or crack easily, so durability is a great feature.

B) Choose the right size
The size of the jars is also essential. Consider that overnight oats increase in size as they soak, plus the other ingredients you add will need space too. When you soak oats overnight, you will have to fill the jar only three quarters to give it room to expand. So, consider the amount you want to soak and for how many portions. The market offers all kinds of jar sizes from as little as 4 oz to as large as 18 oz and even 20 oz.

C) Cleaning the jars
Maintaining your jars clean could be a hassle if they are not dishwasher friendly or have a pattern that complicates the washing process. Check the description of the product before you purchase to make sure that they are easy to wash. If the jars you want are not dishwasher safe, you might want to invest in a simple and basic pattern.

D) Thermal resistant or not
Another essential feature is the thermal resistance of such jars. The idea of soaking oats overnight excludes the need to cook your breakfast. However, you might prefer it a hot or warm case in which it will be convenient to heat the jars with overnight oats in the microwave. Or maybe you want to heat other types of food in those jars case in which thermal resistance is a preferable feature as well.

Best Jars For Overnight Oats Reviews
Here are the top 7 best jars for overnight oats on the market today:
1. Triumph Overnight Oats Container Jar Review
The first set of overnight oats containers come from Triumph Products, and they are just what you need.
This make-ahead instant oatmeal jars set comes with two containers made of a resistant type of glass. They have a simple design, and each container comes with its sturdy lid.
You can count on these jars for resisting scratches, cracks, and breaking even if you drop them. This type of glass is safe for storing any type of food, so you can use them for other purposes.
You can use these jars to store your food in cabinets or the refrigerator, but you can also heat up the food in the oven.
The snap-lock lids of these containers are airtight, so your food will be very well conserved. Thanks to these lids, they are also leak-proof and safe to take with you on the go.
Because these jars are made of glass and not plastic, you can count on them for being highly hygienic. They will not allow bacteria to grow, and they will not alter the quality of your food.
The size of each of these jars is 18.5 oz, and you will get the lids in the package as well.
Pros
Resistant glass material
Multi-purpose containers
Generous size
Airtight snap-lock lids
Portable
Cons
They don't come in different colors.
No more jar sizes available.
Check Price at Amazon

2. Mongsterware Overnight Oats Container Jar Review
Another great set of overnight oats jars is this product from Mongsterware that you will love to use for several purposes.
There are four containers in this set with four lids included, so you can use them right from the box.
Even if these jars are made of plastic, it is a type of plastic that is safe for storing food of all kinds. They will not shatter or crack over time, which makes them a long term investment as well.
These jars are also lightweight, making them easier to carry around with you at work or when you go on vacation.
The lids of these jars will lock perfectly, keeping your food safe and fresh.
The plastic material of these containers is BPA free. You can use it in the microwave, fridge, freezer, and dishwasher.
Each jar has a 16 oz capacity, which is more than enough to soak oats and create a healthy breakfast. But you can use them to store other types of foods as well.
Pros
Lightweight containers
Secure lids
BPA free
Multi-purpose jars
Dishwasher safe
Cons
They don't come in different sizes.
Smaller than other overnight oats jars.
Check Price at Amazon

3. Wide Mouth Mason Jars Review
If you want to go for the traditional and best option of soaking oats overnights, these mason jars from Supkiir are all you need.
This overnight steel cut oats mason jar set comes with four mason jars of 16 oz each. Their wide mouth design makes them easy to use and store and has a compact shape.
The jar material is a food-grade glass that will resist over time, and the lids are made of safe plastic with no BPA.
You can use these jars in the freezer and wash them in the dishwasher with no concerns.
Each jar comes with measuring lines on the side, which makes using it that much easier. You can use these jars for cooking as well.
When you don't use these jars for overnight oats, you can use them for other foods or merely storing seasonings in them.
Pros
Easy to clean
Set of four jars.
Anti-leak lids
Safe glass and plastic material.
Graded lines
Cons
Only one design available.
Not microwave safe
Check Price at Amazon

4. Fixwal store 16oz Regular Mouth Glass Jars Review
This set of overnight oats jars will be ideal for many of your kitchen tasks as they can serve various purposes.
Along with the six jars in this set, you also receive the lids for them and two brushes that will help you clean them. You receive 10 lids and 20 black labels so you can use these jars to organize your food or seasonings.
The glass material of these jars is very resistant and easy to wash in the dishwasher as well. The material of these jars doesn't contain BPA and is entirely safe.
The lids are leak proof as well as waterproof, so your food will be well stored in these jars.
Besides overnight oats, you can use these jars to put pickles, bring food with you at work, travel, and many other purposes.
You can also use your imagination to decorate these jars the way you want and paint them to look even better in your kitchen.
Pros
Set of six jars.
Extra lids and labels included.
All jars are multi-purpose.
Easy to clean in the dishwasher.
Safe glass material
Cons
Not thermal resistant
Might shatter easier to impact.
Check Price at Amazon

5. FOANRIY Mason Jars Review
This Foanriy set of jars is ideal for overnight oats and many other types of foods and seasonings.
The glass used to make these jars is crystal clear to see perfectly what is inside of them. They also have a simple and pretty design to look great in your kitchen.
Each jar is 16 oz in size, a generous capacity for storing your overnight oats and other types of food.
Besides overnight oats, you can also use these jars for candles and other decorations, and crafty projects.
You can use them to get food on the go as you are traveling or working as well.
The lids of these jars are leak-proof, and they come in a beautiful silver color that will look good with everything in your kitchen.
According to your needs, you can order them in a pack of one or a set of six.
Pros
Crystal clear glass
Leaf-proof lids
Multi-purpose jars
Ideal for on the go.
Great for storing food.
Cons
Only one design available.
Not as big as other jars.
Check Price at Amazon

6. Oats Overnight BlenderBottle Review
This is a different type of overnight oats container but just as efficient as the rest of the jars, if not even more.
This blender bottle will work just fine for overnight oats. However, keep in mind that it doesn't come with a whisk ball.
It has a capacity of 20 oz, with 12 oz measurable, so you can use it to prepare a generous breakfast for the next morning.
This container's material doesn't come with any BPA or toxic chemicals that could affect your food.
It is easy to clean this bottle by washing it in the dishwasher every time you need to.
A great feature of this bottle is that you can shake it to mix your breakfast ingredients better and simply open the lid to enjoy it.
Pros
Generous capacity
Multi-purpose blender bottle
Safe material
Perfect for traveling
Easy to clean
Cons
Whisk ball not included.
Not microwave safe
Check Price at Amazon

7. Mini Mason Jars Review
The last but not the least product that will work great for overnight oats come from the Ultimate Hostess Store.
This jar model is perfect for preparing just one portion of overnight oats at a time. You receive 15 little jars in the packs with lids and labels so you can use them right away.
These 4 oz jars are perfect not only for overnight oats but also for organizing your kitchen seasonings and other foods.
They have a modern design and will look great in your kitchen at all times.
The clear glass that these jars are made of is safe for storing food, and it will resist scratches and shattering impacts.
You can use these jars to store baby food or other types of sauces and foods as well. They are also great if you want to get creative and decorate them to embellish your kitchen.
These jars' lids are leak-proof and very resistant, so your food will stay fresh for a long time.
Pros
15 jars in the set.
Lids and labels included.
Easy to clean
Great for storing all kinds of food.
Leak-proof
Cons
Smaller than other jars.
The lids have sharp edges that might make them uncomfortable to use.
Check Price at Amazon

Top-Rated Jars For Overnight Oats
Our Pick
The Triumph products overnight oats jars are ideal for many reasons that will make you fall in love with them too!
They are bigger than most similar containers, so you can soak more oats at once. This allows you to prepare a delicious meal for more people at the same time.
The design of these jars is also unique. They are very wide, making them accessible and easy to use, and have a stable base for extra safety.
The fact that they are thermal resistant helps you too if you want to heat up your breakfast in the microwave, for instance.
We also appreciate that you can use these containers for various purposes, such as storing different foods or serving different dishes.
Eating overnight oats can bring a boost to your health and help you maintain the weight you want as well. And if you want to add this food to your daily diet, you will most likely enjoy the benefits of having jars just for this purpose.
This guide helps you find the best overnight oats jars for you and your family and understand the benefits of this superfood. So, take your pick and have a tasty yet healthy oatmeal every day!

Key References
"Oats | The Nutrition Source | Harvard T.H. Chan School of Public Health". Accessed February 14, 2021. Link.