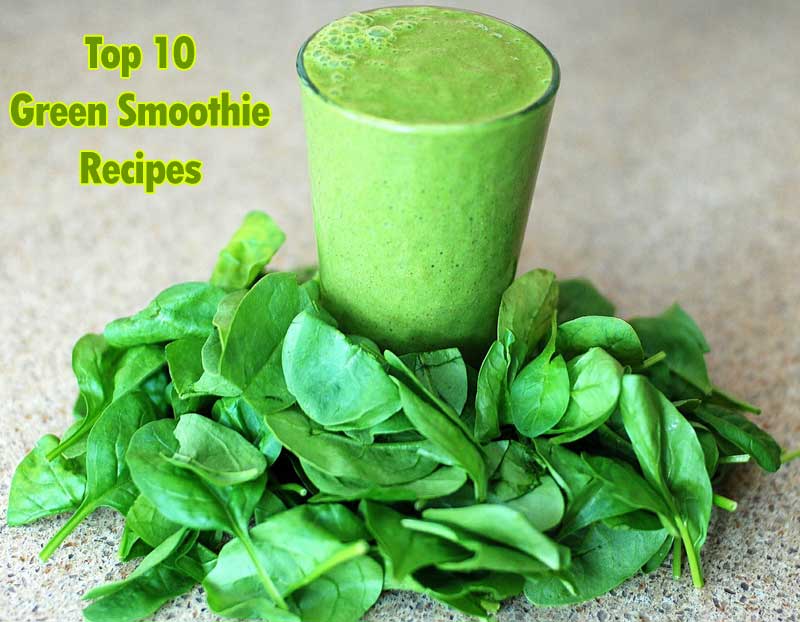 Do you often watch your colleague gulp down a whole glass of green pulp? Wondering how could one possibly drink such things? Well, your colleague is undoubtedly a health lover and that green pulp is nothing but a nutrient-packed smoothie. Some say that a smoothie is the best way to incorporate fruits and leafy greens into one's dietary habit. The rest consider it to be a formula to stay hearty, toned and very healthful.
How is a glass of green smoothie beneficial?
Before discussing how green smoothie recipes cater to one's good health, it is worth learning about the ingredients that make this pulp nutrient-rich. What is a basic nutritious green drink recipe? Well, it's a simple blend of some liquid, fruits, and the most befitting leafy greens. You can always add-in some extra toppings to pep-up the flavor of this drink. Leaves, especially the green ones are replete with phytonutrients. This is an organic chemical that serves a great deal in sprucing up the immune system in a human body. It also cuts down the chances of getting targeted with malicious health disorders. The cherry on the cake, presence of fruits in green smoothie pep up the nutritious value and taste of the drink. From vitamins to minerals and fiber, a glass of green smoothie has it all.
The reason why such drinks are becoming crowd-pleasing these days are:
They are natural energy boosters and keep you active throughout the day.
You experience the benefits of an improved immune system.
Green smoothie recipes are packed with anti-oxidants. Therefore, a human body naturally gains immunity against threatening diseases.
For those looking to shed off unwanted pounds, a green smoothie is a great solution.
It is super-easy to get a glass of green smoothie ready. As a result, a great health supplement to all busy working professionals.

Know More About the Delicious 10 Best Green Smoothie Recipes: I'm an ardent green smoothie fan and have tried a couple of green smoothie recipes myself. The following are some of the recipes which I have bookmarked to give it a try.

01. Turmeric Green Smoothie

Another word to describe this healthy smoothie is 'Tropical Cleanser'. Ingredients you would need to make this drink are ground turmeric, coconut milk (as the liquid), mango, pineapple, some ginger, kale leaves and juice of fresh lemons. Believe it or not but this nutritious green drink recipe is like an antidote to issues like bloating, gas, diarrhea and constipation.

2. Spinach, Apples and Avocado Smoothie

To start with, prep and chop two cups of Spinach along-with some avocado. Chore and apple and chop it as well. Now in a blender, pop all ingredients together along-with a cup and a half of apple juice. Blend it and a delicious yet nutritious glass of green smoothie is ready in a minute.

3. Pineapple Mojito Green Smoothie

Mojito is often counted as a family favorite. You can twist the recipe a bit and turn it to an awesome healthy drink. Gather together ingredients like baby spinach, some crushed pineapple, bananas, fresh orange segments, mint leaves, juices of both lime and lemon and some water. You can also add some ice for a refreshing feel. That's it! A glass of power green is ready to be gulped down in less than three minutes.

4. Pumpkin-Spiced Green Smoothie

It's very certain that you've tried and loved pumpkin spiced lattes and cupcakes, right? Well, it's time to juggle the ingredients and create something healthful out of it. To make a pumpkin spiced green smoothie, clean cook and get some pumpkins ready. Also, arrange for some banana and fresh baby spinach. For the liquid base, use a cup of almond milk and some chilled coffee (preferably decaf) if you are a latte fan. Spices like cinnamon, nutmeg and ground cloves are also required to season and complete the delicious and nutritious green drink recipe.

5. Spinach, Grapes and Almond Butter Smoothie

Are you very fussy about food, especially their tastes? Even then, are you eager to maintain a healthy diet? Well, this almond butter and jelly green smoothie will certainly make you happy. The prime ingredients required for this drink are red grapes and spinach. Both these items are full of anti-oxidants. To add a creamy texture to the nutritious drink, you can use unsweetened almond milk, a little almond butter and freshly cut chunks of bananas.

6. Cilantro Mango Detox Green Drink

A human body is often filled with toxins that hamper the well-being and health of an individual. In such cases, a detox drink like that of a cilantro-mango smoothie is a very organic way to cleanse the system. Green smoothie recipes like this include mango chunks, cilantro, avocado and spinach as basic ingredients. To add some taste, ginger powder, lime juice, honey is blended along with the above-mentioned ingredients and water. You can also use some pineapple and papaya chunks as toppings.

7. Orange Green Smoothie

People concerned with their increasing weight can opt for an orange green smoothie for breakfast. This recipe is pretty simple and needs a very limited number of ingredients. Cucumber, orange, zucchini and cashew nuts are namely some of them. To make this smoothie a little thick and stomach filling, add a spoon of protein powder and oats. Nutritious green drink recipe, also a weight loss recipe is ready in minutes. Try it!

Suggested Reading:

8. Special Green Smoothie


This drink should aptly be named 'A smoothie that aids beauty and health'. Grab a blender and pop in it some chopped romaine lettuce, celery stalks, bunch of baby spinach, a little water. Add to the mix some chopped fruits like apple, pear and bananas. Now mix in some lime juice and parsley for that perfect finish. Your very own special green smoothie is up for grabs. For best results, drink this on a regular basis and experience healthy, glowing skin.

9. Mango Avocado Smoothie

Did you know that a smoothie could treat disorders as grave as an Alzheimer's disease? Well, the mango-avocado smoothie surely does. To make this, use fresh ingredients like mango, avocado and fresh spinach. Get hands on some agave nectar for the sweet tone in the smoothie. Also arrange for some low-fat vanilla flavored soy-milk to make the smoothie good-in-taste. Check it out here.

10. Wheat-grass Smoothie


Do you know what a combination of celery, parsley, spinach and wheatgrass could do? Well, it could magically transform your body to being shapely, nourished and healthy. Drink this wheat-grass smoothie for breakfast and you will never have to worry about slackening those extra pounds hard. A wheat-grass smoothie is absolutely magical.

Regardless of whether you like smoothies or not, these top 10 best green smoothie recipes are nutritious health-befitting slimming snacks.