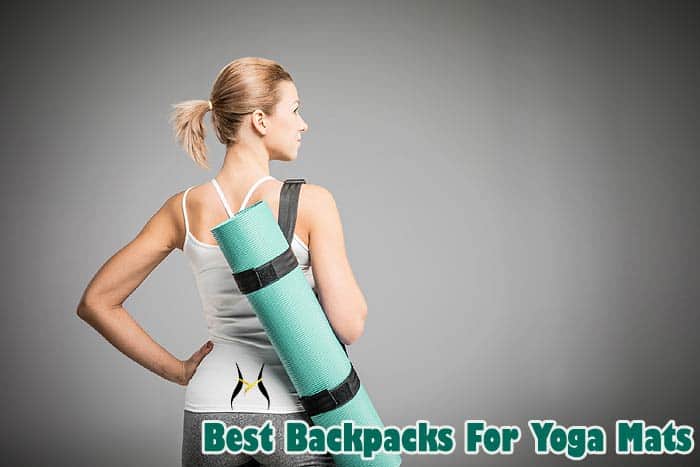 Backpacks for Yoga Mats: Owning a backpack for yoga mats can make your trips to the gym or yoga class so much easier. Although these backpacks are designed for carrying yoga mats and other similar items, they are quite versatile because they can carry a plethora of things.
Sale
Best Backpacks For Yoga Mats
Our Pick
Our top pick for the best backpacks for yoga mats is the Yoga Jaci Yoga Mat Bag. It is roomy enough to fit most standard mats and your other accessories. We love the ventilation holes that come with this backpack to help you stay hygienic.
We ♥ honesty! Waist Healthy earns a commission through the following hand-picked links at no extra cost to you.
But no one wants to spend a fortune on a backpack or be caught with a low-quality one. So we have compiled a review of the best backpacks for yoga mats available to yoga-lovers like you.
Best Backpacks for Yoga Mats
Here are the best backpacks for yoga mats on the market place today:
Made of high-quality material, this sturdy backpack for yoga mats is stylish.
It has 2 mesh side pockets and two roomy zipper front pockets to help you keep your essential items within reach.
The zippers unzip all the way around and operate smoothly for easy access.
This backpack is well designed for a standard-size yoga mat to fit perfectly.
The Imarana Yoga Mat Bag has a carrying strap, so you can customize the bag's length according to your preference.
The carrying strap is solidly constructed yet wide enough to feel comfortable on your shoulder.
It is convenient and functional as both a gym bag and yoga mat, helping you to get your items safely to and from the gym.

2. Aurorae Yoga Multi-Purpose Backpack
The Aurorae Yoga Multi-Purpose Backpack features a top-loading center mat lock system that conveniently holds most yoga mats.
It will help to hold your mats in a comfortable position while evenly distributing the weight across your shoulders.
There is another elastic strap at the mat locker base that can be used for small yoga mats and to increase stability during transit.
This backpack for yoga mats provides ample storage with the main compartment.
The compartment features a Velcro padded compartment, a mesh zippered pocket, and an exterior zippered pocket.
The Aurorae Yoga Multi-Purpose Backpack features two water bottle holders to help you stay hydrated during your sessions.
The backpack can hold mats 8 pounds and under and about 26″ wide and 72" long.

3. Heathyoga Yoga Mat Bag
The Heathyoga Yoga Mat Bag is made of 100% high-quality canvas and cotton that is thick and durable.
This backpack is roomy enough to hold your mat, towel, water bottle, as well as other essentials.
It is designed with two sturdy and smooth zippers, which makes it easy to access your yoga mat and other items.
It features 2 large front pockets and one inner pocket for proper organization.
The adjustable shoulder strap allows for comfortable carrying and customized length.
Combined with fine stitching, the backpack's embroidery designs add more value and color to this bag, making it eye-catching and vibrant.
The Heathyoga Yoga Mat Bag is available in 4 vibrant and attractive colors.
Additionally, the bag is lightweight, so you can take it everywhere you go.

The WRASCO Yoga Backpack is a durable and stylish backpack for yoga mat perfect for daily use.
It features a front expandable compartment that is perfect for a yoga towel.
The main compartment comes with a foldable drawstring cover, which helps the mat and contents from falling out.
Both compartments can be locked with eyelets and toggle buttons.
The elastic cord with stopper offers the needed fixation.
This backpack features a wide and long adjustable strap, offering comfortable ways of carrying the mat.
The two stylish elastic loops help to keep the yoga mat rolled tightly up against your bag.
The WRASCO Yoga Backpack also features an outside water bottle holder, a front zipper pocket, and a hidden zipper pocket in the front compartment to help you organize your essential items.

5. Lotuscrafts Yoga Mat Bag
The Lotuscrafts Yoga Mat is the perfect companion when going for a studio session. It is available in different stylish colors and perfectly coordinates with your other items.
The backpack has enough space for a slightly large yoga mat and other accessories.
Also, you can store your valuables such as smartphone, keys, or wallet in the interior compartment.
The bag is comfortable to wear thanks to the adjustable carrying strap.
The cover bag is made of premium quality fabric made from pure organic cotton.
The Lotuscrafts Yoga Mat is dyed and manufactured under fair working conditions and according to ecological standards.

The Ewedoos Yoga Mat Bag is specifically crafted to carry your yoga mats, so no more hassle carrying and packing your gear to and from the studio.
It features a large side pocket for your sunglasses, towel, and water bottle.
The small interior zipper pocket is great for your phone, wallet, and keys.
Made from quality cotton canvas, this backpack will last through many workouts.
The longer strap and wider size make the bag very easy to carry without tiring your shoulders and arms.
What makes the Ewedoos Yoga Mat Bag unique is that it can double as a beach tote, shopping bag, or sports bag.

7. Masaya Yoga Mat Backpack
The Masaya Yoga Mat Backpack is made from strong polyester filmed waterproof material, making it perfect for gym, travel, school, work, and hiking outdoors.
This yoga mat backpack features a top-loading drawstring and adjustable bottom straps to hold your mat safely.
The backpack also includes 4 zipper pockets to store phone, cards, ID, cash, and keys.
The extra 2 side pockets will help hold spray bottles and water bottles.
The main pocket can hold yoga blocks, shoes, mat towels, and clothes.
The Masaya Yoga Mat Backpack can carry up to 30 pounds, so you can carry all your yoga gear and other essentials for your practice.

8. Aurorae Yoga Mat Carrier Bag
The Aurorae Yoga Mat Carrier Bag has a versatile, stylish, and modern design in 8 radiating colors.
It features a specialized mat-locker system that securely holds most yoga mats.
The double-reinforced, adjustable, and wide shoulder strap with built-in cell phone pocket and lock buckle comfortably fit over both shoulders.
The bag is made with durable, heavy-duty polyester, so it should last you through many workout sessions.
It features a small front zippered pocket and large individual compartments that will securely hold your valuables.
The Aurorae Yoga Mat Carrier Bag is a multi-purpose backpack for yoga mats great for your trip to the gym, yoga studio, and more.

9. Kindfolk Yoga Mat Backpack
The Kindfolk Yoga Mat Backpack is perfect for all standard pilates and yoga mats.
Regardless of the size of the mat, you can attach it to the bottom of this backpack, leaving enough room inside for straps, block, clothes, and other essentials.
With a roomy interior and comfortable padded straps, this backpack could be your new go-to yoga backpack.
The bag is incredibly durable and well-made with high-quality canvas, perfect for daily use.
It has a main storage compartment and extra interior pockets for your other accessories.
The quality canvas material of this bag makes it stand out from others on the market.

10. ELENTURE Full-Zip Exercise Yoga Mat
If you are looking for an inexpensive backpack for yoga mats, the ELENTURE Exercise Yoga Mat is a great option.
With its full-zip feature, it is easy to put your yoga mat in the bag and keep it organized and clean.
The adjustable shoulder strap is designed for easy carrying and customized length.
An expandable and large front pocket is perfect for valuables such as a wallet, cell phones, yoga socks, yoga belts, keys, and more.
Also, it features a side pocket designed with an earphone slip, perfect for a music player or your cell phone.
The ELENTURE Full-Zip Exercise Yoga Mat can hold standard mats up to 26 inches wide and 6 inches in diameter when rolled up.

11. Yoga Jaci Yoga Mat Bag
The Yoga Jaci Yoga Mat Bag can fit standard mats up to 26.5″ width and 5.5″ in diameter when rolled up.
The backpack is roomy enough to fit your other items, including a hand towel, mat towel, block, or strap.
Unlike other yoga backpacks that lack air vents or ventilation eyelets, this bag features ventilation holes, which ensure it is more hygienic.
The multi-color and eye-catching fabric gives the bag an elegant design.
Additionally, this backpack will keep you neat and organized as it comes with 3 pockets.
The pockets are roomy enough to hold all your essentials.
The Yoga Jaci Yoga Mat Bag is convenient to carry as the shoulder strap is padded.

With its embroidered dreamcatcher design and three chakra colors to choose from, this bag allows you to match your backpack to your gear or outfit.
This bag is 14″ wide, so you can keep your yoga equipment and other accessories.
There is also an additional pocket for a towel and water bottle.
It has a zipped pocket with a strong zip for your keys, cards, and phone.
The backpack also comes with 2 elastics to help keep the mat tidy and rolled up as you tote it around.
The Zenifit Yoga Mat Bag is made from heavy-duty cotton canvas and has reinforced stitched seams, so it will last you through many years.

Suggested Reading:
Buying any of the backpacks in our guide will make getting your mat to the gym or yoga studio a lot easier. These backpacks for yoga mats will also ensure your mat is secure.