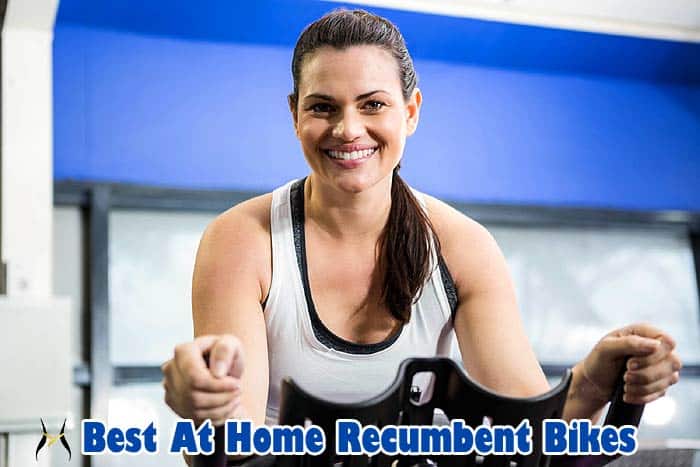 Best at Home Recumbent Bikes: Cycling can be a great cardio option to mix up your training, and recumbent bikes can allow you to train in the comfort of your own home.
At home, recumbent bikes are perfect for beginners and fitness enthusiasts who want to regulate their blood pressure, enhance cardiovascular functions, tone muscles, and lose weight. It is considered a low-impact workout, so it's for all ages.
Best At Home Recumbent Bikes
Our Pick
Our top pick for the best at home recumbent bike is Marcy ME-709 Recumbent Exercise Bike. Its 8 levels of magnetic resistance are challenging enough for intense workout sessions. Being almost silent, ME-709 will allow you to exercise while watching your favorite TV program.
We ♥ honesty! Waist Healthy earns a commission through the following hand-picked links at no extra cost to you.
Best Recumbent Bikes – A Comparison Table
Console Display
Time, distance, calories burned
Time, speed, distance, calories, ODO
Time, speed, distance, calories, ODO, pulse
Scan, distance, time, speed, heart rate
Time, distance, speed, calorie-burn
Maximum User Weight (lbs)
What are Recumbent Bikes?
Recumbent bikes offer users increased back support.
They help to evenly distribute body weight, which can be helpful for people with joint and back problems or other pre-existing injuries.
They feature multiple adjustment points, a semi-reclined position, and a larger seat, making it easier to find a comfortable workout position.
The step-through design of these bikes is excellent for seniors and those recovering from injuries.

What to Look for?
Are you confused by all of your options? Not to worry, we will go over 6 things to look for when choosing the best at home recumbent bikes to ensure you find the best one for you.
You want a recumbent bike with lots of resistance levels because you want to continue challenging yourself as you get into a better shape. There is no point buying a bike and within the first 3 months topping out at the highest resistance. If you are looking to train at a higher intensity, when looking at options, make sure the resistance adjusts easily with plenty of intervals for varied training.

It is essential to have a backlit console because you are reasonably far away from the console on the at-home recumbent bike. The backlit console makes reading your stats as you are cycling easier. You don't want to strain forward to see the console.

With at-home recumbent bikes, it is all about the bike seat. A comfortable seat will ensure you enjoy your workout. Look for a padded seat or, even better, a seat with lumbar support. Some models also pattern their seats after expensive executive chairs. The more comfort features on your seat, the better.

Choose a seat that can be adjusted back or forward. This feature makes it easier for riders of varying heights to find the right fit for them. Also, some seats give you an adjustable angle so you can lean back or sit straight.

If you are looking for the smoothest, quietest ride possible, look for a heavier flywheel of at least 9 kilograms. A larger flywheel also offers more levels of resistance, allowing you to step up your workout intensity.

Most at-home recumbent bikes come with hand grip heart rate monitors. However, some people prefer the wireless heart rate monitor option. This is because wireless monitors are more accurate and more comfortable.

Recumbent bikes are getting better at giving users more entertainment options to make at home workouts more enjoyable. For instance, many bikes now come with an iPod dock so you can easily plug in your iPod or mp3 and play your favorite tunes. Also, you can find workout-tracking programs, lots of built-in workouts, and internet connections. If you are the type that gets bored quickly, choose a bike with lots of entertainment options.

Top 6 Best at Home Recumbent Bikes
Here are the top 6 best at home recumbent bikes on the market place today.
1. Exerpeutic 2500 Recumbent Exercise Bike
With its extra-large back support and ease of use, the Exerpeutic 2500 Recumbent Exercise Bike is a comfortable way to workout.
Not all recumbent bikes are created equal; this unit is designed to be a heavy-duty bike with a more comfortable backrest cushioning, wider comfortable seat, and magnetic resistance for challenging workouts.
Also, it includes hand pulse pads for targeting and measuring heart rate zones. The step-through design of this bike makes it easy to get on and off, giving you a more efficient and effective workout.
Its 14 levels of magnetic tension resistance allow you to adjust the resistance level for a more difficult or more comfortable exercise routine.
The smooth torque cranking system offers a consistent and reliable pedaling motion.
The v-belt drive and balanced flywheel provide quiet and continuous operation, so you can listen to music or watch TV while working out with no distractions or interference.
The Exerpeutic 2500 Recumbent Exercise Bike is designed to give you safety and comfort when exercising.
The back support and seat cushion can be adjusted for riders of any size, and for riders, up to 6 ft 3, a larger pedal design with safety straps helps to prevent any foot slippage while working out.
This recumbent bike also comes with an LCD display that indicates speed, time, calories burned, and distance.
Pros
Durable steel frame
Supports up to 250 lbs user weight.
Enlarged backrest and seat.
Quiet operation
Cons
The LCD display is not backlit.
Check Price at Amazon

2. Marcy ME-709 Magnetic Resistance Recumbent Exercise Bike
The Marcy ME-709 Magnetic Resistance Recumbent Exercise Bike combines the benefits of working out in a comfortable and relaxed seating position.
Made of premium steel tubing, rubber, and PVC, ME-709 has a high-quality structure that combines performance and design with a powder-coated finish.
It is sturdy enough to resist damages, chips, and scratches from the environment.
The recumbent position keeps the rider comfortable throughout the workout to ensure you remain motivated to push further.
The step-through design makes getting in and out easy.
Also, this exercise bike uses a magnetic resistance system that features 8 preset levels of resistance.
The resistance can be adjusted with a tension knob to customize your workout according to your preference.
ME-709 panel display not only acts an odometer but also tracks calories burned, distance traveled, speed, and time for easy reading.
It is equipped with wheels for maximum mobility, so you can move it anywhere quickly to conveniently store wherever you want.
Additionally, this recumbent bike is equipped with adjustable foot straps to help create the ideal fit for your feet.
Pros
Step-through design
8 resistance levels
Easy to read LCD display.
Comfortable padded seat
Check Price at Amazon

3. Marcy NS-716R Magnetic Recumbent Bike
If you are on a limited budget, the Marcy NS-716R Magnetic Recumbent Bike is your best bet.
Although affordable, it still offers some features which you will typically find inexpensive exercise bikes.
The 8 preset levels of resistance allow for adjustments when necessary. It features a fully adjustable seat that can fit different users.
This recumbent bike comes with foam-covered handlebars to help you make the most of your exercise session.
The NS-716R is equipped with an LCD display that tracks your distance, time, calories burned, and speed.
Additionally, convenient transport wheels allow you to move it around without lifting easily.
Overall, the Marcy NS-716R Magnetic Recumbent Bike combines efficiency with comfort.
Pros
Compact design
8 preset levels of resistance.
Quiet and smooth operation.
Adjustable and comfortable seat.
Cons
Lack of preset workout programs.
Check Price at Amazon

The ShareVgo Semi Recumbent Magnetic Bike is a smart exercise bike that will save you both money and time.
This best recumbent cross trainer features a sturdy and durable X-frame that is designed for people up to 250 pounds.
The whisper-quiet eight-level magnetic resistance is controlled easily by a large tension knob.
The easy to read Bluetooth monitor displays all essential information, including heart rate, speed, time, and distance.
The adjustable and comfortable seat, as well as backrest with handlebars, makes this recumbent bike comfortable to use.
With its intuitive dashboard, the ShareVgo Semi Recumbent Magnetic Exercise Bike allows you to track your progress and performance.
Pros
Smooth and quiet operation.
Comfortable and adjustable seat.
Durable and sturdy frame.
Cons
It is a bit difficult to mount and dismount, especially for short people.
Check Price at Amazon

5. Teeter FreeStep LT3 Reviews
The Teeter FreeStep LT3 Recumbent Bike is a budget-friendly cross-trainer designed to offer a low-impact and safe workout.
There are 2 different models available in Teeter Recumbent Bikes namely LT1 (Basic model) and LT3 (Premium model).
The Teeter bike offers zero impact exercise and it is ideal for all fitness levels.
You can track your progress with battery-operated digital console. It has a water bottle holder and moving wheels to move from one room to another with ease.
The naturally reclined and comfortable seated position reduces body fatigue while also eliminating the stress on the back and joint.
The unique striding motion of this Teeter LT3 bike protects your joints and knees while engaging variable magnetic resistance.
Additionally, the dual power motion simultaneously works your lower and upper body, engaging all muscle groups to burn more calories and build strength.
The digital console in this Teeter recumbent bike LT3 allows you to track your progress. Also, the friction-free linkage system means the Teeter FreeStep Recumbent Cross Trainer will last many years.
Pros
Quiet magnetic resistance
Compact size
Adjustable handles
Easy to move
Check Price at Amazon

6. Schwinn 230 Recumbent Bike
With intuitive goal tracking, easy-to-read displays, dozens of workout programs, the Schwinn 230 Recumbent Bike puts a higher level of fitness within your reach.
Its goal tracking capability allows you to set individual workout goals like calories, distance, and time.
The dual-track LCD monitor displays 22 preset workout programs, providing increased visibility to goal tracking and programs.
The Schwinn 230 offers 20 levels of resistance for different workout intensity options.
It has everything you need to have an intense and enjoyable workout.
Pros
Walk-through design
Built-in fitness programs
Quiet operation
Streamlined console
Check Price at Amazon

Whether you are looking for an intense workout or a simple cardio activity, recumbent bikes are a great addition to your exercise routine. Having a good quality at home recumbent bike is a great way to ensure you get the cardiovascular benefit you need without having to put additional stress to the back and strain on the arms, neck, and shoulders.

Key References
"Exercise Bikes: Resistance Vs. Duration | Livestrong.com". Accessed February 10, 2020. Link.
"Stationary Bike Workout Benefits and Exercise Plans". Accessed February 10, 2020. Link.