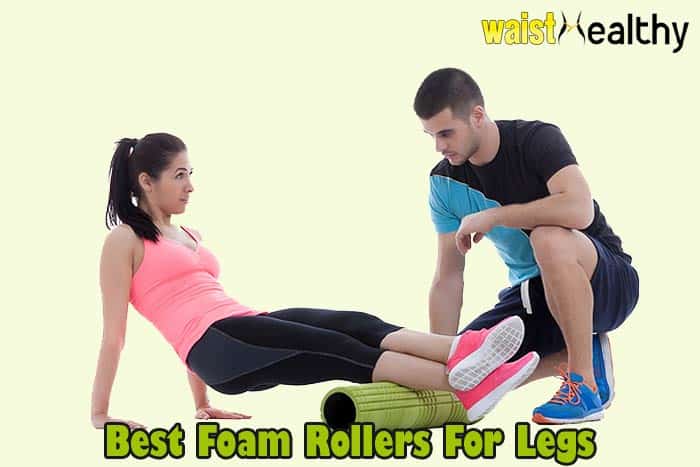 If you are fit and active, whether it is weight lifting, biking, running, or just exercise in general, you have probably been sore after a workout. The best foam rollers for legs are a great way toimprove your mobility and to facilitate muscle healing.
Best Foam Rollers For Legs
Our Pick
Our top pick for the best foam rollers for legs is the TriggerPoint Grid Foam Roller. It comes in different colors and sizes, but the best thing about this roller is its durability. It can withstand 500 pounds of weight, and it is worth the investment!
We ♥ honesty! Waist Healthy earns a commission through the following hand-picked links at no extra cost to you.
Best Foam Rollers For Leg – Comparison Table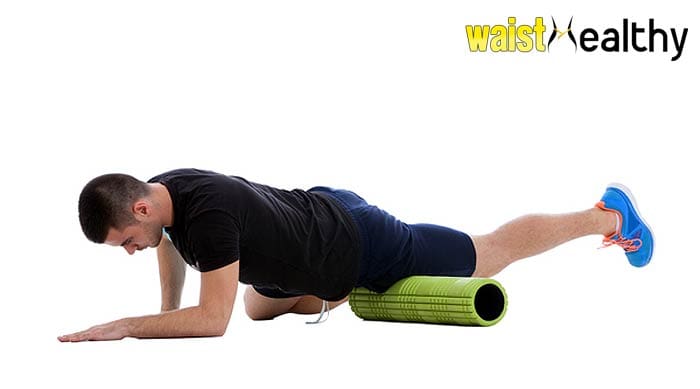 Foam rollers are made to calm the muscles and are ideal as a tool before or after a workout. The firm but comfortable surface helps massage and stretch the muscles with the bodyweight of a person sitting or lying on the roller and slowly rolling from side to side.
In terms of material, foam rollers can either be made of polyethylene foam, which is softer but can deform over time, or EVA foam, which is denser and somewhat more durable. Also, there are rolls with reinforced plastic cores to maintain density and increase durability.

How do foam rollers help for Legs?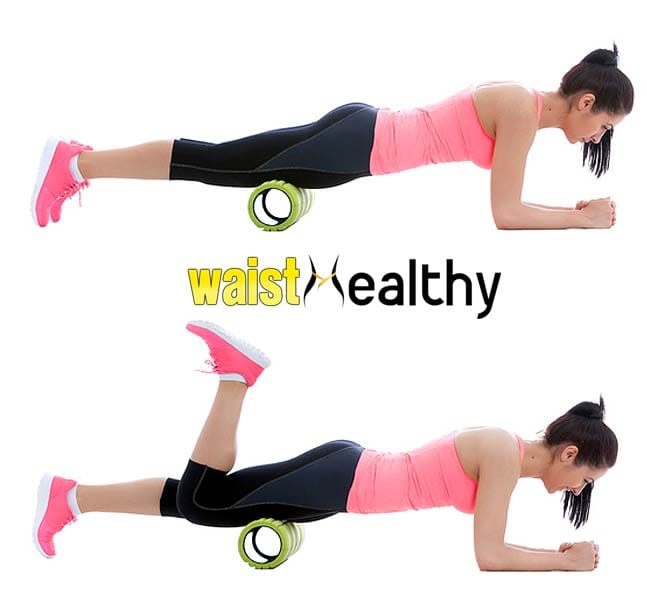 All the muscles in the leg are connected by fascia, which surrounds the tissue, nerves, and all other structures in the leg. However, fascia can become weak by overuse, injury, or even by everyday repetitive movement.
Foam rollers keep fascia healthy by circulating fresh oxygenated blood through it. The healthier the fascia, the better you move. Ultimately, foam rollers can help to diminish aches and pains, increase flexibility, increase range of motion, enhance performance, and accelerate recovery.

What to Look for?
The most crucial choice for your new foam roller is density. In general, rollers can be divided into 3 density categories; firm, medium, or soft. Soft foam rollers have more padding or cushion. They are intended for those seeking more comfort instead of the deeper and firmer standard massage. The universal quality of standard density foam makes them ideal for self-massage and exercise. For those looking for a more intense and deeper massage, a firm density foam roller is the best.

Next what size foam roller? There are also many sizes of foam rollers available. Although most traditional round cylinders are standard size, there are many other sizes and different shapes. Here is how each size works for specific purposes.
Standard size: When most people think of a foam roller, they think of a standard-sized foam roller. The typical standard-size roller measures about 36-inches long x 6-inches in diameter. This size is versatile for a wide range of uses, including massage (quads, hamstrings, and back), physiotherapy, and general exercise.
Shorter length: If you are searching for a more portable roller that is perfect for travel and you can take to the Pilates studio, physiotherapy clinic, or gym, consider a shorter length foam roller. Shorter foam rollers have a similar diameter as traditional full-size rollers (6 inches or more). Still, they have a shorter length, usually 12 to 18 inches.
Smaller diameter: A smaller diameter foam roller, usually 4 inches, means it is lower to the ground and more stable. This is often important for physiotherapy patients, elderly users, or patients with impaired balance.

Do you need something extra? Some uniquely designed rollers offer bumps for those who want a more stimulating massage or just want to target specific areas. Rollers with bumps, ridges, or spikes can provide a deeper and penetrating massage that breaks the fascia even in compact and narrow areas.

Not all foams are made equal. Believe it or not, developing a foam roll takes a lot of technique. The way it's built helps determine its longevity, and where it's primarily used – essential considerations to keep in mind before buying.
Open-cell: Rollers with open-cell construction are suitable for massage and exercise, but break down much faster than rollers with closed cells. Although this is affordable, there are better quality closed-cell foams at cheaper prices. Closed-cell options are very durable, and they come in 2 types of foam; EVA and EPP.
EVA Foam: EVA (Ethylene Vinyl Acetate) foam rollers offer unmatched durability. These foam rollers are designed to withstand the intense and repeated use often found in Pilates studios, clinics, or gyms, where many people use them all day. Also, home users can benefit from the longevity of these rollers, as they will last longer than any other type of foam.
EPP Foam: EPP (Expanded Polypropylene) foam rollers are high-quality but relatively inexpensive. They are versatile and suitable for users of all levels. Offering an excellent combination of affordability and durability, they are an excellent starting point for the typical user, while still being effective for the advanced users. EPP rollers last much longer than open-cell rollers but do not offer the maximum durability of EVA foam.

Here is the nice video demonstrating the foam roller exercises for legs after a workout.

6 Best Foam Rollers for Legs
Here are the top 6 best foam rollers for legs on the market today.
1. TriggerPoint Grid Foam Roller
The first foam roller for legs is the TriggerPoint Grid Foam Roller.
It is made of EVA foam of different densities and has a hollow core.
The EVA foam absorbs shock, is resistant to water and other elements, and is easy to clean and maintain.
The unique surface design of the Grid helps it roll through tense muscles, knots, and kinks.
The roller measures 26 inches long and 5.5 inches in diameter, but you can get it in different sizes.
It has a weight limit of 500 lbs and comes with instructions.
TriggerPoint supports this product with a 1-year warranty.
Many users have found this to be a good foam roller that offers medium strength and holds up for long-term heavy use.
They also emphasize its compact design, making it practical for traveling.
Pros
Very durable and dense.
Multidimensional surface helps with recovery and circulation.
Doesn't lose shape over time.
500 pounds maximum weight limit.
Cons
Pricey, but it is worth it!
Check Price at Amazon

2. ProsourceFit High-Density Half Round Foam Rollers
The ProsourceFit High-Density Foam Rollers offers the firmness you need to work out your legs.
This compact unit uses a high-density EVA foam to keep things light, yet ensure effective projection into your muscle mass.
These best foam rollers for athletes have lightly textured dots facilitate better traction when in use.
This therapeutic foam roller is available in 3 different sizes to suit different preferences.
The 13″ version can be packed easily in a duffel bag while the 24" makes a great addition to your home gym.
The ProsourceFit High-Density Foam Rollers offer great support and will maintain its shape after consistent use.
Pros
High-density shell for maximum penetration.
Multi-textured surface
Easily releases trigger points.
Cons
It is too hard for beginners.
Check Price at Amazon

3. Premvida 3-Speed Vibrating Foam Roller
The Premvida 3-Speed Vibrating Foam Roller features a unique surface specially designed for versatility.
The surface gives users the benefit of a flat and smooth surface, as well as ridges and bumps.
It vibrates at three different speeds, delivering both low-intensity and high-intensity options.
Additionally, the unique pattern on its shell promotes flexibility and faster healing.
It reaches deeper layers of your leg, focusing on hard to reach trigger points.
The dual massage zones easily adapt to your needs, enhancing the recovery of your leg muscle.
It comes with a carrying handle that makes it easy to take with you, regardless of where you go.
Pros
3 vibration speeds
Unique arrow pattern
Dual massage zones
Free carrying handle included.
Cons
Misses a vibration speed.
Check Price at Amazon

4. LuxFit High-Density Speckled Foam Roller
The LuxFit High-Density Speckled Foam Roller is made of high-density molded polypropylene foam guaranteed to retain its smoothness and shape after repeated use.
This unit is ideal for physical therapy and post-workout massages due to the extra firm construction and the variety of sizes available.
Unlike the GRID, this best foam roller for runners has a consistent density throughout.
However, that doesn't stop it from delivering on its promise of excellent results in terms of effective myofascial release and relief of muscle tension.
The reliable assistance the LuxFit High-Density Speckled Foam Roller gives as an exercise prop makes it one of the best rollers for legs.
Pros
Easy to maintain
Durable design
Reasonably priced
Multiple sizes available
Check Price at Amazon

5. 321 Strong Foam Roller
The 321 Strong Foam Roller has 3 different grid zones designed to mimic the thumb, palms, and fingers of a therapist.
The 3 zones use varying amounts of pressure to give your leg a deep-tissue massage.
It is a rugged and lightweight foam roller with a solid core EVA foam.
This medium density product is mainly suited for beginners.
Despite its medium density, this unit can support up to 500 pounds of weight.
This best foam roller for beginners is comfortable to use, making it ideal for beginners but still very effective at penetrating sore and tired muscles.
Pros
3 different grid zones.
Lightweight design
Comes in 11 color options.
Double textured
Check Price at Amazon

6. URBNFit 5-Speed Vibrating Foam Roller
A choice between 5 vibrating speeds makes the URBNFit Vibrating Foam Roller a top choice for all levels of users.
The vibrating speeds range from 900 – 3, 600 rpm.
The fifth mode combines all the other 4 levels of vibrations and changes rhythmically between every 3 seconds.
It features solid construction with a powerful motor to ensure it fulfills your massage needs.
Combining customizable vibration and foam rolling, this roller can heal all muscle soreness in your leg.
The URBNFit 5-Speed Vibrating Foam Roller is a must-have if you are a massage therapist, professional trainer, seasoned athlete, or involved in an intense workout.
Pros
5 vibrating speeds
Easy to use
Durable and long-lasting
Rechargeable battery
Cons
A bit pricier for some users.
Check Price at Amazon

Top-Rated Foam Rollers For Legs
Our Pick
Our top recommendation for the best foam rollers for legs is the TriggerPoint Grid Foam Roller. It comes in 3 different colors, durable and supports up to 500 pounds of weight, and it is worth the money!
Whether you are a weekend warrior, an endurance athlete, or simply looking to alleviate the wear and tear of everyday living, you will benefit from the best foam rollers for legs.
Key References
"Effect of Self-myofascial Release on Reduction of Physical Stress: A Pilot
Study". Accessed May 17, 2020. Link.
"What is an EVA foam and its common uses? | Foam Sealant". Accessed May 17, 2020. Link.
"The Importance of Foam Rolling | INTEGRIS". Accessed May 17, 2020. Link.