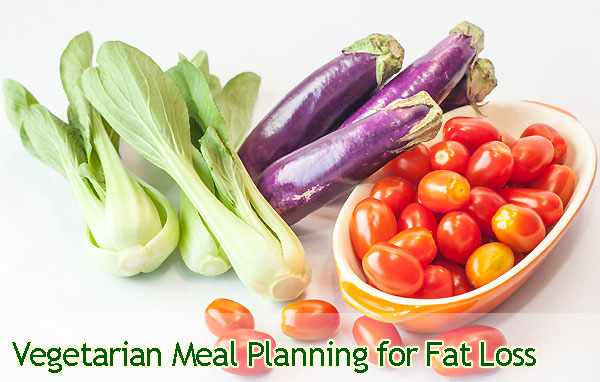 Like I have mentioned in my earlier posts, the main reason we vegetarians are not able to lose fat as much as and as quickly as meat eaters is because of our excessive carb consumption, especially from grains, be it gluten-free or not or whole grains. One is not better than the other even though we are being (mis)led to believe that (excessive) consumption of whole grains does not cause any harm or rather it is beneficial to our health, which in fact is quite contrary to the truth. You can read more about that here. I know it's a lot to read, to take it in and to implement it, but that's the undeniable fact.
Is it going to be hard to put it in practice? Of course it was for me and I'm still working on it. I have not gone 100% gluten-free or grain free, but working towards it. Maybe that's the missing piece of my fat loss puzzle. I did go gluten-free for a month and lost about 6lbs and lost some inches around the waist too, but I have to agree that it was not easy especially given my love for breads and rotis. So what I'm doing now is restricting bread/chapathi to 2-3 times a week, which I would definitely like to cut back further.
I'm trying to stick with Raj Ganpath's principles (at least most of it, grains and eggs is a big hurdle for me as well) because it makes sense to me. So I try to plan my meals for me as well as my family according to his sample menu plans. I try to use tofu, paneer and lentils in place of eggs. Raj says that there is no nutritional substitute for eggs, but we have to come up with something which is feasible for lacto-vegetarians like me.
Check out the following vegetarian meal plan ideas from Raj Ganpath:
The key concepts which you will note in the above links are:
Increasing the consumption of vegetables. I mean really super increase it. Try to have vegetables for breakfast, lunch and dinner.
Include full fat dairy in the form of milk, yogurt, cottage cheese, etc. Include/increase whey protein powder if you are working out, which you should definitely be doing.
Reduce the consumption of grains, gluten-free or not. But white rice and starch (including potatoes, sweet potatoes) is allowed especially post work out.
Avoid using vegetable/seed oils like canola, sunflower etc. Ghee, sesame, coconut oil and extra-virgin olive oil should be your go to fats.
While calorie counting is not necessary you may have to decrease the quantity of starch/fruit and increase protein for fat loss.
Snack is not compulsory, but if you are really hungry do not skip it. Just make sure to stock up some sensible snacks.
This is how my vegetarian menu looks like on a typical day. I lost about 21 pounds over the period of last 12 months following this menu and a regular exercise routine. I was not able to give it a 100% because of my love for bread and baking. I know that I have to cut back on grains (especially grains with gluten) but the thought of going cold turkey doesn't work for me. So I try to make sure that I do not over do it. Hopefully I will do and get better starting today.
BREAKFAST:
Vegan Rainbow Tofu Scramble. You can use plain dosa to wrap it instead of tortilla/chapathi. Sometimes I finish it off with a green smoothie or simply a protein shake (protein powder blended with a glass of milk). For the green smoothie, I use a lot of greens and protein powder too in my portion. I have got used to the taste of excess greens. I prepare the kids version first with about a cup of greens then add another 1-2 cups of greens for mine.
Qia cereal: This is available in Costco. It's a mix of Chia seeds, buckwheat groats, hemp seeds etc. The portion size is 2 tablespoons of this cereal mixed with milk. I top it with a cup of blueberries/strawberries or a combination of both and some walnuts.
Dosa Pizza and green smoothie/protein shake/a cup of yogurt. Dosa generously topped with a mixture of cooked spinach, mushrooms and garlic and some mozzarella cheese. My kids will have this either for breakfast or I pack it for my son's lunch.
Vegetables stir-fry and a cup of yogurt. Usually a combination of vegetables like broccoli, cauliflower, zucchini, mushrooms, peppers, carrot and tofu/paneer seasoned with Thai curry paste/chili garlic sauce, etc. I mix this with some cooked quinoa/brown rice pasta for my son's lunch. Broccoli and black beans stir fry sometimes.
Leftover vegetable soup from the previous night, idli/dosa and a cup of yogurt.

Just a big batch of green smoothie with 1 cup of fruit, 1/2 cup of carrots/purple cabbage/beets, 1 tablespoon of chia seed powder/flax seed meal, 1 scoop protein powder, 2 cups of spinach/kale, ginger, turmeric powder, cinnamon, etc.
If I make sundal (chickpeas, kidney beans, horse-gram, etc, soaked, cooked and sauteed in coconut oil with spices and freshly grated coconut) for my son's lunch, I have that for breakfast and a cup of yogurt.

Sundays it is usually vegan waffles, gluten-free waffles or eggless pancakes topped with strawberries/banana and walnuts and a protein shake.
Occasionally high fiber cereal, like All Bran buds/flakes with strawberries/blueberries and walnuts.
LUNCH:

I start my lunch everyday with big bowl of salad, usually raw something like this Indo-Greek salad or 2 cups of steamed vegetable salad with:
1/2 cup of cooked quinoa or 1 chapathi
1 cup of kootu/dal like this beet greens dal, zucchini kootu, zucchini pappu (feel free to use any other vegetable or mixed vegetables) or sambar like this beet sambar but only with more vegetables or avial (mixed vegetables cooked in a sauce made of yogurt, coconut and green chilies, something similar to this beet greens morkoottu)
1 cup of dry curry like this roasted cauliflower, beets usili, cabbage poriyal (curry), okra, carrot or any other vegetable or combintiaon of vegetables
1/2 of rasam as soup
1/2-3/4 cup of yogurt
DINNER: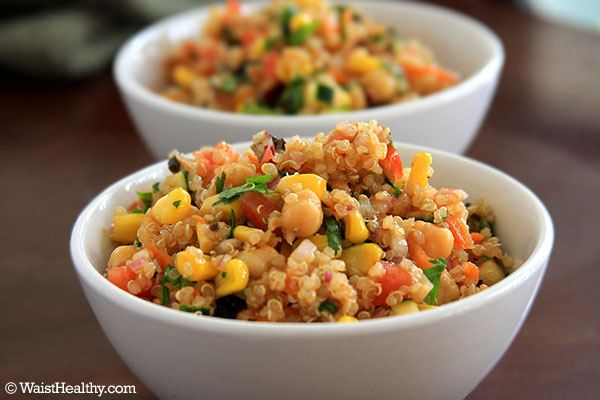 Usually leftover salad/dal/curry from lunch (yes I make a huge batch) and 1/2-3/4 cup of yogurt with:

2 Idlis or Dosa or
1/2 cup of pongal/vegetable upma

Vegetables stir-fry with yogurt.
Vegetable soup and yogurt (I usually make huge batch of soup and have it for breakfast/lunch the next day and send it in a thermos for my son's lunch too).
Pav Baji. One whole wheat bun with 2 cups of bhaji and yogurt.
1/2 a Quesadilla (with lots of kidney/black beans), leftover salad from lunch and yogurt.
Colorful Quinoa Salad and a cup of yogurt.
2 SNACKS: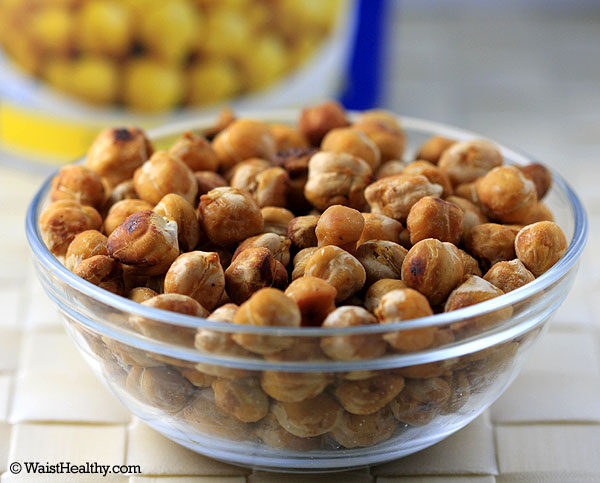 Baby carrots/cucumber and hummus
15-20 almonds and raisins
Gluten-free rice crackers and cheese
A cup of fruits like strawberry, watermelon, apple, pear or half a banana with Babybel cheese
Protein shake
A glass of leftover green smoothie from breakfast
A cup of sundal (of course without the Bulgar wheat)
A glass of milk and some fruit
A Kashi granola bar
Apple and a tablespoon of peanut butter/almond butter
Somethings I make sure:
I try to eat vegetables at least 3 times a day.
If at all I have something made of grains with gluten (like roti, bread, cereal), I don't have it more than once a day and not more than 2-3 time a week.
Have protein with every meal.
Drink a lot of water throughout the day (at least 3 liters) including 2-3 cups of green tea everyday.
Try to use a lot of spices like ginger, turmeric, cinnamon, chili, quite often throughout the day. Also regularly use garlic and apple cider vinegar.
Please feel free to share your vegetarian recipes and menu here with all of us. How do you plan your everyday menu? Do you have any tips to increase the consumption of vegetables?
Other resources for vegetarian and vegan meal plans. This may not be for fat loss or it's not grain-free/gluten-free but it's a good collection of vegetarian/vegan recipes that you can try.
Hope you will find this post helpful to plan your everday meals. Now, are you guys ready to start an "eat clean diet" and exercise regularly from tomorrow? Please do join the Facebook event "The world's largest gym class challenge for 30 days" which starts tomorrow as well, which is perfect for all of us who have teamed together to lose 10 pounds in the next two months. All the very best to all of us!